Considered by some to be a distant cousin to WordPress (as they have  "same blood"), b2evolution has continued to evolve at a seemingly faster pace than its younger cousin (as b2evolution is on version 3.3.3 while WordPress is on 2.9.2).
Although boasting numerous plugins, template skins and a small but passionate community, b2evolution has nearly faded from the public spot light as most people outside of the "realm known as geek" have never heard of b2evolution (as it brings up blanks stares, unlike WordPress or Blogger).
Despite its humble reputation, the b2evolution crew announced in January that they are planning on releasing version 4.0 in a few months. But the question remains: will it be enough to save this dying brand?
Even though there are some bloggers who prefer b2evolution over WordPress, a quick Google search reveals that the vast majority of users are leaving the platform in order to embrace the WP faith.
This could be due to its user interface which although powerful is not the most elegant thing to look at (especially if one compares it against WordPress, Blogger or Movable Type).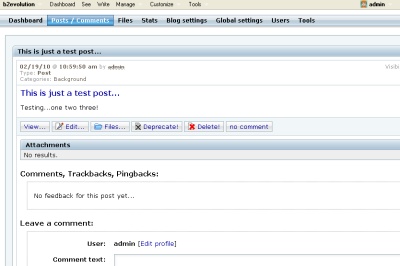 While I could name several blogs supporting the WP brand (like Mashable, Inside Blackberry, and many, many more), the only prominent blog supporting b2evolution (that I know of) is the Moon Society (disclaimer: I occasionally write for that blog, and have in the past asked the leaders to switch away from b2evolution–hence this post).
Unless b2evolution 4.0 releases something innovative and perhaps even embraces the world of mobile like WordPress (which is now upon Android, Blackberry and the mighty iPhone), I do not see a healthy future for this platform–although I am hoping that somewhere some b2 geek can hopefully prove me wrong in the not so distant future (hint, hint).
Author:
Darnell Clayton
Darnell Clayton is a geek who discovered blogging long before he heard of the word "blog" (he called them "web journals" then). When he is not tweeting, Facebooking, or blogging about space and his beloved iPhone, he enjoys running, reading and describing himself in third person.