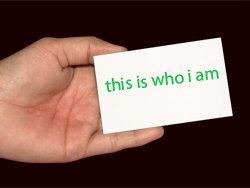 Who am I? Good question.  This isn't a post exploring my identity, rather it's my virtual hug to regular BloggingPro readers. Because before you read any of my posts, I think it's important you know who I am.
I am not a blogging expert and I don't pretend to be one.  I do, however, consider myself a successful blogger.  I've been able to supplement my income, satisfy my need to create compelling content, and most importantly, get people to think about topics in different ways.
My greatest blogging achievement has been building Jobacle.com, a career advice and employment news Website which has become a recognized voice in the niche, even garnering attention from major media outlets.  I've worked for a few media companies myself: MTV Networks and FOX News.  They sound much more glamorous than they are, and to tell you the truth, I'm not sure which had more liberals working for them.
I don't promise to have the answers to all of your burning blogging questions.  Rather than a guru, think of me as a passionate guinea pig who is willing to share every detail of the experiment.
Many blog readers don't care about the author. They want to learn about the latest gadget, scoop their friends on the breaking celebrity juice, and get lost in politics they have no control over.  But I like to think blogging about blogging is different.  We all share a passion, not to mention, a lot of the same personality traits.
Some nights I lie awake thinking about how many $10 blog posts I'd have to write to quit my "real" job and blog full time.  The answer is that it would take quite a few, and I would burn out in a few short months.  So for now, I'm better off balancing the two.  And I'll bet you are too.
I proudly call myself a blogger.  Sometimes the owners throw me a few bucks, sometimes I get nothing but the satisfaction of purging my mind.  That's who I am.  Do your readers know who you are?  They should.
Feel free to introduce yourself in the comments section below.  I hope you enjoy reading my posts as much as I enjoy writing them.
After working for FOX News and MTV Networks, Andrew G. Rosen founded Jobacle.com, a career advice and employment news blog. He is also the author of The Exit Guide: How to Leave a Job the Right Way.