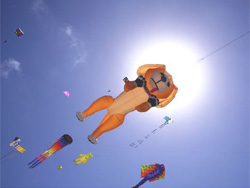 The warmer weather is here.  That means there's a good chance you'll be busier than you were a few weeks ago.  From beaches and barbecue to exercise and boating, the first thing that often gets sacrificed is the one thing that helped you get through the winter – blogging.  Here are a few tips to help you maintain your blogging prowess during the 95 days of summer.
Schedule Your Time.
Just like you can't show up at the doctor's office unannounced, be sure to make an appointment with yourself.  Look at carving out regular space early in the morning, late at night or even at work to take care of your blog obligations – just keep it consistent and show up to blog when you promised.
Blog Outdoors.
Often thought of as a fiery carcinogen, the sun, in moderation, is actually very healthy for you. Assuming you don't get distracted easily, blogging outdoors is the ultimate in multi-tasking.   The proliferation of wireless devices has untethered us from our desks.  Make a move to  step out from under the fluorescent lights and visit the great outdoors.  If you find your mind wandering, keep trying – practice makes perfect.
Get Chunking.
Robert Pagliarini, author of The Other 8 Hours, a wonderful book on maximizing your free time, suggests that you "chunk" your mental and physical tasks together. For example, if you're planting flowers in the yard, you can simultaneously dictate your next blog post into your phone. Now if that's not the best of both worlds, I don't know what is.
Schedule Coverage.
Since it can't be summer everywhere at once, there are plenty of bloggers suffering in the cold who would be willing to temporarily fill your blogging shoes. The key is to arrange for blogging help before you notice your blogging productivity decreasing. Solicit for guest posts before the days get longer and save them for a sunny day.
How do the different seasons impact your blogging routine?
After working for FOX News and MTV Networks, Andrew G. Rosen founded Jobacle.com, a career advice and employment news blog. He is also the author of The Exit Guide: How to Leave a Job the Right Way.