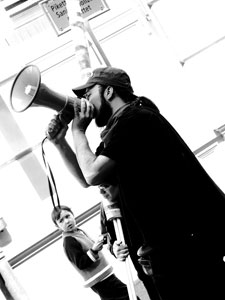 Frankly I don't get it.
Folks requesting organ donations have had greater success than today's blogger seeking comments on their blog posts.
And I say this with affection: I'm amused but confused.
In my mind, reading an enjoyable (or minimally interesting) blog and not leaving a comment is like dining at a restaurant and not leaving a tip. And isn't "food for thought" just as gratifying?
Ask any blogger and they'll tell you that comments left on a blog by visiting readers are the equivalent of finding a 20 dollar bill in a back pocket of some old jeans, or receiving extra chicken nuggets in your value meal package that you didn't have to pay for.
Or getting a date with Keanu Reeves.
Okay, well maybe that's just me. 🙂
But anyhow…
Consider this a public service message: We wanna hear from you.
Or it kind of defeats the point of taking our "journals" public.
I don't say this to be crass or crazy.  Really…
We know you're out there.
The electronic "click counters" confirm it.
Whether you're reading our blogs because you accidentally landed on our spot, were referred, got bored, or actually dig our style and our platform, we welcome you!
Now stand up and be counted. Your 'two cents' is valuable.
I admit that until I started on a regular basis, I too didn't realize all the work that goes into building and sustaining a blog. There's the design and set up, the content, formatting, the marketing, and many hours of solitude sitting in front of a computer until your back and your eyes hurt.
Now, of course I'm not suggesting that we don't get something out of it too. But, I've always believed that successful communication is a two-way street. Bloggers don't want to always talk "at you" we want to "talk with you".
And although I think it's neat when I get a "tweet," I dig a little intellectual online exchange every now and then. Then again, maybe it's a chick thing; women hate the "silent treatment", unless we're giving it.
I kid you not, on some days it's so quiet, we'd welcome hecklers! 🙂
Let's Look At The Problem And Solutions
If perhaps you're not shy, but instead time constraints are a factor, I can certainly understand. Everybody is hugely busy these days. Consider this.
A comment doesn't have to be of epic proportions. A simple, "I enjoyed your post" would suffice and potentially qualify you for B.F.F. status. Or even something like "I give this post 4 grunts."
Also adding insult to injury are fellow bloggers who refrain from giving comments on your post for fear that you'll have more responses than them in what they perceive to be an online popularity contest. Go figure.
The Payoff
If you still need some gentle convincing, here are 5 reasons to leave comments on your favorite Blogs.
Because it's free. That's right; it won't cost a dime and just a few minutes of your time. And think about it, how often is your opinion really sought? Probably not as much as you'd like. 🙂
Because it helps us decide the future direction of our blogs.
Because it helps to build a cohesive community in the Blogosphere.
Because it leaves a "virtual paper trail" that leads readers to your joint, and potentially increases your Blog traffic.
Because it promotes good karma. You don't owe us anything, but it sure would be nice. 🙂
Well, I'm off my "soap box" for now. It's Tuesday ni and I anxiously await the "comments" of Simon Cowell on American Idol. Cheerio!
Jennifer Brown Banks is a veteran freelance writer, popular relationship columnist, and Pro Blogger. When she's not immersed in the world of words, she digs simple pleasures like cooking, Jazz music, Karaoke and a good cup of tea. She is the former Senior Editor of Mahogany Magazine.