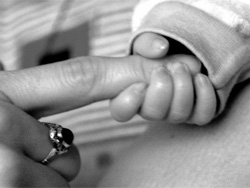 Growing up in Queens, New York we didn't have high school football.  There was no money for equipment and no desire to potentially fit a 16-year-old for a wheelchair.  Yet the television show Friday Night Lights, which is based around a high school football team in Texas, is one of my favorites.  The program has a magical way of transporting me back to high school.  From the awkward dating scenes to brawling with  parents, each episode gets my emotions percolating – a true testament to the show's writers.
Wouldn't it be neat if we could accomplish something similar with our blogs?  It's not possible or necessary for every post, but before you hit that "publish" button, re-read your work and make sure you're not missing an opportunity to tug on reader's heartstrings.
Get Personal
Every blogger is faced with the choice of how much about themselves to reveal.  I always ask myself how will feel 10 years from now when a set of new people, folks I did not previously know, Google my name and come across a post I wrote.  Do I really want them to know about Problem X? However, the writers who are willing to bare all, are the ones who drum up an emotional connection with readers.
Use Examples The Masses Can Identify With
When telling a story or making comparisons, play to the lowest common denominator, and build from there.  What do we all have in common?  We are all sons and daughters. We all love and lose. We hate when our spouse depends on us to go down to the basement to get more toilet paper!  OK, maybe that last one is just me, but you get the drift.  When people can identify with you, you're more likely to elicit emotion.
Don't Be Cheap With Words
When words transcend the screen and bring about a strong mental or physical response (tears, chills, etc.), it's rarely done without telling a story. And telling a story takes time.  Unlike visual mediums, blog writers don't have the benefit of a sappy musical track or color scheme. You'll have to build a bridge to their heart – one word at a time.
Provide A Backstory
I write for several blogs and it recently occurred to me that many readers, have no idea who I am.  Whether you're writing about a battle with a disease, the loss of a pet, or your affinity for pistachio ice cream, make sure readers understand your perspective and why you are choosing to write about the topic.  Once they know where you stand or how the topic relates to you, they can better frame the blog post.
And for those of you who have never watched Friday Night Lights, I highly recommend it.  Each character fits an archetype you can relate to, while cleverly revealing that none of us are as one-dimensional as we might seem.
After working for FOX News and MTV Networks, Andrew G. Rosen founded Jobacle.com, a career advice and employment news blog. He is also the author of The Exit Guide: How to Leave a Job the Right Way.