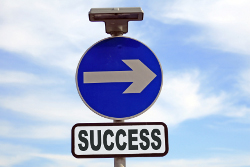 I'm a big fan of learning from successes. A general piece of advice in many fields including blogging is that you can learn a lot from failures, but I think examining the things that have worked is a much better use of your time. Failures just teach you what not to do, but then you're still stuck on the next step. After a failure, how do know if your next idea will work?
But successes are different. By nature, they give you much more insight in the things you need to be doing.
Also, analyzing your successes and focusing on them often brings a renewed sense of hope and motivation. You become more motivated because you won't have to do something that's totally new. Change is hard for us humans. Trying new things can be intimidating since we're unsure if they will succeed.
But if we examine something we done ourselves that was successful, we'll be more than willing to do it again. And we become more hopeful, because we've actually already done the task. We don't have to worry whether or not we have the ability to do it.

SEO Application
If you have some experience blogging, you've probably gained valuable experiences that can be used to boost your search traffic. Here are some exercise to consider.
Content: Examine your posts and see which ones are driving the most search traffic. See if there is a pattern. Quite often you'll find that a few topics or certain types of posts are getting more traffic than the others. Then, simply start writing more of that content.
I did this exercise on my blog and found that the five posts with the most traffic were all the same kind of posts. Therefore, I've spent a lot more time writing similar content and my traffic has grown tremendously as a result.
Keywords: Check out your keyword logs. Find out which keywords are attracting the most visitors. You'll probably see a few keywords that keep showing up. Include those keywords in your content especially in the title tag and internal anchor text.
Links: Go to your stats program and pull up the pages with the most referral traffic. These type of pages are usually your most linkworthy content since links that send a lot of traffic are generally high quality links.
Also, you can go to Yahoo Search and type in "linkdomain:yoursite.com -site:yoursite.com". This will show you the backlinks of your site. Analyze them by checking out which of your posts are getting the most links.
Based on this information, create similar content and pitch them to similar sites that have linked to your blog.
Over to You
Please share your SEO successes in the comments below. Thanks!
Dee Barizo is the resident SEO geek. He used to work full-time for Sea Waves as a search marketer. He currently does freelance SEO work.