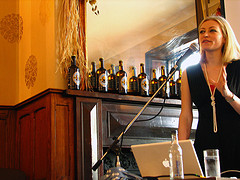 If you launched your blog as a recreational tool to vent repressed feelings from your youth, or to promote a personal agenda, or to follow in the footsteps of your friends then "this Bud's (NOT) for you!"
If, however, you want to elevate your blogging skills to an art form, attract more traffic than the Eisenhower Expressway during rush hour, or build a platform to heighten your business or career, read on.
Think of your blog like a standard video game with many tiers and levels.
The more you know, the further you go.
It's all about strategy, small nuances and mastery of some basic skills.
Up to the challenge?
Here's how to bring your "A" game to the table.
First off, let's start by debunking a very common blogging myth.
"If you build it they will come."
Remember that line from the movie Field of Dreams?
Well, it doesn't quite operate that way in the "virtual world" my friend.:-)
With so many blogs saturating the Blogosphere, you can't just build it and sit back.
You need to be a clever architect in "building" and a savvy promoter as well.
With this in mind, here are 3 ways to create a solid site and a solid following, much like the BIG dogs.
Learn Some New Tricks
No matter where you are in terms of your blogging level, chances are, you could probably be better. Never rest on your laurels. Take online tutorials. Explore social media strategies. Study the set-ups of the more successful blogs. Assess what is done well, what you connected with, and do a comparative analysis. Then apply it.
Provide Content With Real "Bite"
Though Blog readers typically like brief content, it's still important that it be substantive with true take-away value for visitors to return. Tackle controversial topics. Discuss news events that relate to your blog's theme and target audience. Use real life examples and anecdotes.
In the words of singer Bonnie Raitt, "Let's give 'em somethin' to talk about."
Run Your Own Race
While incorporating successful techniques from others to your blog is a smart strategy, always strive to separate yourself from the pack. Don't steal, but don't reinvent the wheel! The cool thing about blogs is that fan base is based upon the individual personality and voice of the host. Stand up and be counted. Do you!
By applying these three timely tips you'll create and sustain a successful blog with pit bull potential!
Photo Credit: Roo Reynolds.
Jennifer Brown Banks is a veteran freelance writer, popular relationship columnist, and Pro Blogger. When she's not immersed in the world of words, she digs simple pleasures like cooking, Jazz music, Karaoke and a good cup of tea. She is the former Senior Editor of Mahogany Magazine.