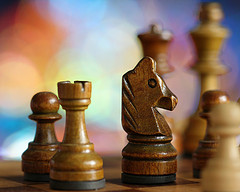 Knowledge is power.
Whether it's culled from classroom experience, lessons of love, or street savvy; the more you know the further you'll go.
And blogging is no different.
There's so much to discover and decipher about this relatively new phenomenon. There are so many paths to explore.
It almost seems that new developments are hitting the scene daily on software applications, Plugins, monetization methods, emerging resources, and key players with keen insight to model from.
So where does one start for the best end results?
If you're up to the challenge, here are 4 ways to boost your blogging I.Q. and your "bottom line" potential.
Admit that you don't know everything.
I don't care what kind of hot shot you deem yourself to be, it's possible to grow more and to hone your skills. Only you know in your heart of heart what those developmental areas might be. Acknowledge them, then address them.
Study the Bloggers that are super stars in your particular niche.
I personally dig the power presence and eloquence of Nicholas Cardot and Robyn-Dale Samuda. I admire Ann Smarty and her SEO smarts and her strategic ability. I find Brian Clark to be brilliantly funny. Who are your favorites? What can you learn from their approach to blogging? Their style? Their voice? Keep a watchful eye on what works for the ones you admire and the needs of your targeted audience.
Become active in blogging communities.
There are so many different blogs devoted to different interests, industries, age groups, regions, etc. For example, Midlife Bloggers addresses issues of the baby boomer generation, SHEWRITES is a group of bloggers that tackles topics and concerns of the female population worldwide. Connect with these like-minded individuals. Learn the lingo. Follow the trends. Network to get to the next level.
Sign up for the many free newsletters and ezines on blogging.
There's a wealth of information contained within these freebies. You'll find everything from insider's tips, to technical how-tos, to insightful reviews.
Follow these four tips and you'll increase your smarts and move to the head of the class in no time.
Jennifer Brown Banks is a veteran freelance writer, popular relationship columnist, and Pro Blogger. When she's not immersed in the world of words, she digs simple pleasures like cooking, Jazz music, Karaoke and a good cup of tea. She is the former Senior Editor of Mahogany Magazine.