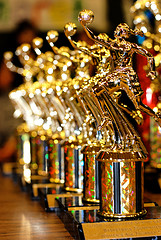 No doubt you've discovered – either by exposure or experience, that guest bloggers can make your spot hot, and increase your visibility exponentially in the blogosphere.
Done correctly, their words of wisdom and timely tips can do wonders for your "wow" factor.
And let's not forget that these blog-buddy arrangements provide a win-win situation for all parties, which adds to the overall appeal.
Featured guests get to tap into your fan base and potentially gain new followers, and you get the benefit of their "groupies", a different voice and style for your readership, a day off from posting your stuff, and everybody goes home happy.
Right?
What you haven't figured out is how to draw top talent.
Because You HAVE figured out that there are bloggers and then there are "BLOGGERS".
And the rules of the game are quite similar to those in the corporate world: Their success makes you look good by association.
For the purpose of this piece, let's think of them as "trophy bloggers".
You know …people you like to be hooked up with to increase your "cool points".
Other than begging, bribing them, or offering them your first born, here are a few tried and true methods of hooking them, based upon my experience.
Have a Reputation for Excellence
Everybody loves a winner. It doesn't matter whether your blog is listed in Technorati's top tier, or if you've been recognized through industry related awards, (though it helps). The main thing is that your blog should boast of quality content and be attractive and easy to navigate.
Be Accommodating
In other words, don't make guest bloggers have to jump through hoops to get your attention. For example, some time ago I surfed upon a blog in the writing niche that was not a leader in the field, but very impressive, and I definitely wanted "in". I clicked on the section for "Guest Posts" and was pleased to discover that they did indeed accept them. However, after I read through the laundry list of dos and don'ts in the guidelines, discovered that you had to register first, then type in the code at the bottom of the page, then wait for word of approval. I lost interest. Others will too.
Respond to Requests in a Reasonable Time Frame
I'm a firm believer that if it took the good Lord just 6 days to create the Heaven and earth, it shouldn't logistically take 6 weeks to get a status update on a 600-word post. Are you with me here? Everybody's busy these days. Remember that a guest post is a courtesy not an obligation. Particularly those that come without compensation. J
Apply these three tips and you'll be rewarded with an all-star line up of trophy bloggers who ultimately add to your "Net-worth".
How about you?
Weigh in. What strategies have you found successful in drawing top talent to your site? Do tell.
Jennifer Brown Banks is a veteran freelance writer, popular relationship columnist, and Pro Blogger. When she's not immersed in the world of words, she digs simple pleasures like cooking, Jazz music, Karaoke and a good cup of tea. She is the former Senior Editor of Mahogany Magazine.