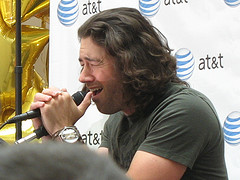 Okay, after much deliberation, I've decided to go public with a personal confession.
As they say, confession is good for the soul. Right?
So, here it goes…
Other than Keanu Reeves, Jazz music, herbal tea, and your "garden variety" 50% off sale, there are few things that I'm fonder of than American Idol.
Now that may seem trivial to some of you, nonetheless, I've said it.
So who the heck cares, and why am I sharing this with you?
To adequately prepare you.
With a few weeks left before the end of this season, I'm totally geeked!
Which loosely translated means; you're almost sure to find sporadic references here and there hidden amidst future blog posts. You've been forewarned. 🙂
But, before you dismiss this chick with a mouse button click, allow me to make a relevant point. Read on…
Aside from its entertainment value, there are many useful lessons on this weekly "reality" show that provide a reality check for today's blogger.
Here are four that I gleaned from last week's show.
Commitment Is Crucial
Be in it to win it! To be honest, there are times when I really, really love this blogging thing. I bounce out of bed early in the a.m. with good intentions and high hopes. I dig the vibe from visitors and it's all good. There are other days when there's very little "online love," folks don't get where I'm coming from, my computer is acting crappy, and I'm sure I'd have more success at the circus!
On those days I'd much rather be at the local coffee shop checking out the cute guys and stuffing my face with chocolate donuts.
But if I gave it up, I'd miss it. Besides, nobody wants to be in a relationship with someone who has one foot outside the door. Right? I'm better than that. 🙂
Consistency Is a Cardinal Rule
I've learned from experience and exposure that random posts here and there whenever the mood suits you, or brief interaction is not a way to build a strong blog following. And you will too. In fact, this is one of the main criticisms expressed by the judges of the contestants on American Idol.
In other words, you can't be a "one-hit-wonder" and sustain true success in the entertainment world or in the blogosphere.
Connecting with Your "Audience" Enhances Your Popularity
On more than one occasion, in my years of viewing the Idol, I've witnessed great, hugely talented contestants get the heave-ho because viewers thought that they were safe and didn't call in to vote for them. It's a harsh reality of life, but sometimes it's not how you "perform" but who's recognizing you. Perhaps you've witnessed it too. Blog posts that are not necessarily the best in terms of quality go "viral" because social media strategies have worked in their favor. Writers who tap into Twitter and are more "social" than the rest of us, reign supreme in the blogosphere!
Community Makes Us All Winners
Even though the Idol show is a competition, it's not hard to see the support and camaraderie of the contestants.
As artists who share the same goals and the same experiences, there's an undeniable bond. It's not unusual to see contestants cry when someone is voted off, even though it means they're closer to reaching their goal. As bloggers, the same holds true. We all want to be the best. We all want to win friends and influence people. But in the midst of the "competition" let us not forget that we're a community made stronger and wiser by each person's contributions, style, and unique perspective. Let's embrace it.
And oh yeah…
Vote for me! Leave a comment. 🙂
Now you have the "mic".
What lessons do you think can be gleaned from this weekly competition as is relates to blogging? Do tell.
Photo credit: Yvonne in Willowick, Ohio.
Jennifer Brown Banks is a veteran freelance writer, popular relationship columnist, and Pro Blogger. When she's not immersed in the world of words, she digs simple pleasures like cooking, Jazz music, Karaoke and a good cup of tea. She is the former Senior Editor of Mahogany Magazine.