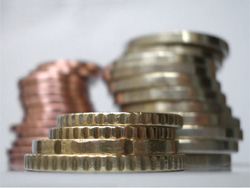 I don't like working for other people.  There I said it.  And if future employers want to judge me by that statement it'll be their loss.  Because I am a loyal, hard-working, dependable dude who is damn good at what he does.  But that doesn't mean I have to enjoy taking orders from people who muck up my creatively sound ideas (and are often not fit to manage).  I just have to tolerate it.
With the economy lingering in the toilet like a black ring hugging porcelain, many of us are faced will fewer opportunities to change or land jobs.
Every penny counts. With only 24 hours in the day.  I often find myself faced with the difficult decision to blog to make a few extra bucks – or blog on my personal site for nothing.
Blogging on my own blog has several benefits:
– My own site has a higher revenue ceiling.  Any ad sales or affiliate profit is 100% mine.  I also can work towards the ultimate payday of selling the site to someone else.
– I am my own boss, which has been one of my goals for several years.  Writing blogs for others might be rewarding, but ultimately, you are still a subordinate answering to other people's requests.
– At the end of the day I feel good because it is all about me – fail or succeed.  I like that there are no fingers to point, no one else to blame.  The potential for success lies squarely on my shoulders.
But that extra money is so darn nice.  And what if my own blog doesn't go anywhere?  Everything is going up in price and my "career" salary seems to be stuck in quicksand…so I NEED those other blogging gigs.
Given the choice to write a few thousand words or stand on my feet ringing register, I'll take the former, every time. So while blogging for other people might not be as satisfying as blogging for myself, it's still a great fit for me.  I get to hone my writing skills, stay in-the-know on an array of topics, experiment on other people's blogs and build up a healthy number of inbound links to my own site.  All while making a few extra dollars.  It's a balancing act, and I'm not always sure I'm doing it right – but at least the balls are still up in the air.
Do you part-time bloggers run into a similar situation?  How do you manage your time between the blog you own and the other blogs you write for?
After working for FOX News and MTV Networks, Andrew G. Rosen founded Jobacle.com, a career advice and employment news blog. He is also the author of The Exit Guide: How to Leave a Job the Right Way.