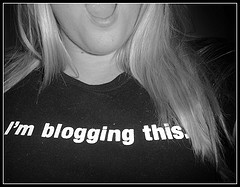 This is a guest entry by Pamela Ferdinand, a Chicago-based journalist and co-author of the triple memoir "Three Wishes: A True Story of Good Friends, Crushing Heartbreak, and Astonishing Luck on Our Way to Love and Motherhood"
I never thought I would be a blogger. Then again, I never thought I would write a memoir. I'm too private, too much of a journalist trained in the school of Objectivity where you keep your opinions and thoughts to yourself. Republican? Democrat? Jewish? Christian? Pro-life? Pro-choice? I never told.
Hah. Here I am, memoir co-author and blogger. Joke's on me.
For years, I covered natural disasters and political debacles as a reporter for some of the nation's leading daily newspapers. I loved it, and am saddened to see what has happened to many of the publications and people who worked so hard to deliver the news — the real news, with depth, substance, and style. For years, people from all walks of life told me their stories, and the whole time, I kept my mouth shut about myself.
Until it was time to tell my story. A story about how I found motherhood and love when I least expected it, in an unexpected way. I didn't set out to write a book with my two co-authors as we discussed how much we wanted children, and how hard a time we had had finding men with whom to have them. But the more we told our story, the more people told us about their experiences and their friends' experiences. They encouraged us to write it down.
And so we did.
But how to write honestly about your life without honestly writing about your life? Impossible. I winced and cringed sometimes as I shared intimate details of my life, and that of my family. I cried when I wrote about failed relationships and pregnancies. I'm Jewish. I'm pro-choice. It all comes out.
Now, as we reach out to potential readers and consider the new lives we are leading as mothers and writers, we have established our own Web sites and blogs. We weren't really sure how to approach them, especially since we had no evidence anyone would care what else we had to say. Hadn't we said what we had to say already? What are the rules?
For me, I wondered how to be personal without being too personal, especially when it came to respecting the boundaries of my significant other who had already gone much more public than he would otherwise choose. I also wondered about style. How to be as pithy and clever as the rest of the mommy bloggers out there. And how to find a niche.
Well, ultimately, I figured out that the beauty of the blog (at least for me) is that I don't have to figure most of this stuff out right away. I wrote and rewrote and rewrote my book chapters again and again. And again. With the blog, I can simply write flat-out, which I love, and I can say what I want to say however I want to say it. I'm exploring the line between being personal and too personal as I go, and pressing the "delete" key when I think I've gone too far. I'm enjoying some positive feedback, but I'm not getting addicted to it. I assume there are plenty of people who don't like my entries and can't be bothered to tell me so.
Blogging is liberating, and it's fulfilling in a way I had never expected. I still aspire to write reported pieces in my blog that resemble traditional journalism in addition to personal essays. I still freelance outside of the blog. But the way I think about writing a blog, and the ways in which I am inspired by other blogs, means that I am examining parts of my life that I always considered off-limits as a journalist. And I think that somewhere along the line, I might stumble upon the makings of another book.
---
Pamela Ferdinand is a Chicago-based journalist and co-author with Carey Goldberg and Beth Jones of the triple memoir "Three Wishes: A True Story of Good Friends, Crushing Heartbreak, and Astonishing Luck on Our Way to Love and Motherhood," released April 6 (Little, Brown & Co.). The book video can be watched here.