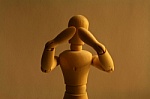 There's no doubt about it.
It's a groovy kinda' feeling when another blogger requests to share his wisdom and his fan base by doing a guest post for your site.
I mean, let's be honest here: who doesn't like a quality "freebie"?
It's the ultimate compliment for most bloggers, other than being paid.
But unfortunately, "all that glitters ain't gold!"
In fact, a blogger buddy of mine experienced this situation first hand, and issued a 9-1-1 for me to help her to handle a recent incident.
This "damsel in distress" found herself being placed in a very awkward situation when a blogger approached her with a potential post. Unfortunately this piece almost appeared to have been written by a 5th grader.
Initially my friend attempted to correct some of the grammatical and spelling errors to make it salvageable and to save face. But the task became so monumental that she just as soon had written the post herself from scratch!
What should she do? She asked me.
Well, this could get sticky.
Of course no want wants to alienate a fan, nor risk wounding someone's ego.
Most of us have been on the other side of rejection, whether it was a Dear John letter from someone who was dear, or a biting rejection from an editor regarding our creative work. And it's not a pretty place.
On the other hand, allowing someone to post something that's sub-par on your site is a kiss of death for both parties. That's a no-brainer.
Lucky for her, I have a little experience in this matter as the former Senior Editor of a regional magazine, and someone who's had more than her share of rejections too. 
Here's what I recommend.
• Remember that it's not always what you say but how you say it. Be kind.
• Start off my finding something positive and redeeming. Thank the person for his time, or for being a follower of your site, or for his creative efforts.
• If it's possible, try to offer some constructive criticism that might help this person in the future.
• Although it may be tempting, don't refer this person to G.E.D. class locations.
• Depending upon your personality and communication style, it may even be a good idea to do a pre-formatted rejection letter that simply states, "Sorry, but your submission does not meet our editorial needs at this time."
Just keep in mind that the cleaner the break the better.
After all, you never know how life will develop. The same dimwit that you "diss" may end up being someone you work for one day. You just never know!
How about you? How do you deal with rejection-either as the giver or the receiver?
Is there a proper protocol for putting someone down?
Jennifer Brown Banks is a veteran freelance writer, popular relationship columnist, and Pro Blogger. When she's not immersed in the world of words, she digs simple pleasures like cooking, Jazz music, Karaoke and a good cup of tea. She is the former Senior Editor of Mahogany Magazine.