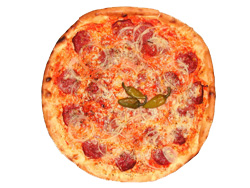 I want my blog to be like pizza. Not like the fake crap you get form those international chains, but like a large, filling, somewhat greasy slice of authentic New York pizza.
Here's why.
Pizza is quick and convenient.
Whether you choose to fold your slice down the middle or opt for a fork and a knife, eating pizza is easy. There's less chewing than a steak and pizzerias are found on the corner of Everytown, USA. Just like that slice of pizza, I want my blog to be easily accessible and easy to digest. I accomplish this by keeping my posts a reasonable length (usually between 200 – 500 words), writing in a simple fashion, and making sure that my posts are appearing correctly on all of the major Web browsers and operating systems. I want it to be quick and convenient to read my blog.
Pizza is nutritious.
A basic slice of pizza can deliver goods from many of the major food groups. So not only does your tummy get full, your body is getting the nutrients it needs. Pizza is one of the few foods, that depending on the dough and toppings, can actually pull items from ALL of the major food groups. I want my blog to fill people up with knowledge without weighing them down. I understand that they'll be visiting other blogs, but I want to provide them with everything they need in case I'm their only stop for the day. Pizza compliments a meal nicely, but it also can BE the meal.
Pizza is affordable.
Not to tell old-man tales, but when I was in grade school, the local pizzeria offered a special: one slice and small soda for $1. Back when I was saving my quarters to play Mario Brothers, this seemed like a lot of money. That same pizzeria now offers two slices and small soda for $5. Darn inflation!
If you offer products or subscription services via your blog, be sure to keep the price down in order to appeal to the largest group possible. No one is priced out of a slice of pizza.
Pizza is portable.
Thanks to cardboard boxes, pizza pies can be brought just about anywhere. Just ask your local delivery boy! You want to make sure that your blog has the same transportablity (not a word, I know). Learn how to blog from any cell phone and be sure that your blog can be read on most mobile platforms
Pizza is universally enjoyed.
You'd be hard pressed to find someone who hates pizza. They are out there, but they are a slim minority. My hope is that people feel the same way about my blog. No matter what walk of life you come from or what your social status, I hope that the masses will find my blogs entertaining and informative.
Pizza has many options.
I'm a pepperoni, peppers and onion guy myself. I like that pizza can be transformed into a different meal depending on the toppings you choose. But at the end of the day, it's still pizza. No matter what direction my blog strays, I make sure to keep the underlying message and tone the same. However, I try to recognize when readers are tired of a plain slice and might want to spice things up a bit.
So every time I'm evaluating my blog, whether it's a single post or larger project, I remind myself that I want my blog to be like pizza. It's amazing I'm not 500lbs.! Want a slice?
After working for FOX News and MTV Networks, Andrew G. Rosen founded Jobacle.com, a career advice and employment news blog. He is also the author of The Exit Guide: How to Leave a Job the Right Way.