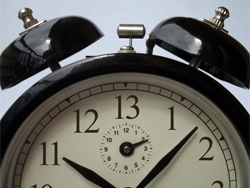 Bloggers are faced with an obstacle of "time sucks" at every turn. These are evil black holes that take away your valuable time, and leave you with nothing viable to show for your efforts. Surfing the Web, researching topics, fantasy baseball leagues, and constant interruptions are just the tip of the iceberg. Another time oft overlooked time leech can be responding to blog comments.
I know that many blog advice sites recommend that bloggers respond to all comments. After all, we already know that the vast majority of people will never leave a comment. And I agree (to a point) that most comments, short of spam, deserve to be acknowledged. But before clanking away at the keyboard, ask yourself the following…
– Can this comment be used for future content? Blog posts don't grow on trees, and even the most creative minds can struggle to come up with original post ideas. Why waste a potential post in the comments section?
– Am I perpetuating the argument? In other words, will the original commenter leave another comment forcing you to respond. Some debates will never be settled (see Israel-Palestinian conflict.) Don't get trapped in a written war where there are no winners or losers.
– Do I look petty? Getting the last word in is pointless, but it's easy to forget this when you are challenged. Going back and forth to determine who the smarter person or better writer is will do nothing but take minutes out of your day.
– WIIFM: What's in it for me? It might sound greedy, and as a Buddhist layman it pains me to even say it, but before leaving a comment you should ask yourself what the gain is. Will you receive traffic back to your blog? Potentially lure in new readers? make the blogger feel good about their post? Blogging is time-consuming work, and a secondary/tertiary job for most. That makes time evaluation critical.
When an athlete gets booed we tell ourselves that it's part of their job. When a superstar gets cursed at we justify the action by saying they are paid to absorb abuse. When it comes to bloggers, many readers view them as a quasi-celeb and treat them as if they are expected to have concrete skin. That's an unfair assumption. Before leaving a comment – or a response to a comment – ask yourself if you're making your mother proud.
After working for FOX News and MTV Networks, Andrew G. Rosen founded Jobacle.com, a career advice and employment news blog. He is also the author of The Exit Guide: How to Leave a Job the Right Way.