How can I increase traffic to my company's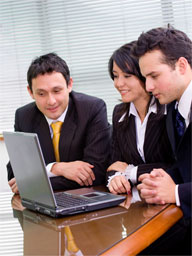 site? How can I win more loyal customers? When will I ever hit the number one mark in Google search results? Surely these are questions asked by many business owners who have decided to expand their boundaries online. It all seems like a daunting task to establish and maintain a successful online corporate presence especially when it comes to driving traffic; but the decision to launch and maintain a company blog can be one of the most rewarding choices you could make for your business online.
Here are 5 solid reasons your company will flourish through maintaining a blog.
1. Search Engines Love Dynamic Content
Maintaining a blog gives you the distinct advantage of easily creating new content on the fly with very little hassle. Search engines, especially Google, place higher priority on sites that constantly produces fresh, valuable content that is useful for the web at large. Static, unchanging websites can give the impression that your company is not moving forward and not creative.
Take the opportunity to blog about about new products, new experiences, useful tips and guides for your customers and publish company news through this medium. The search engines will reward you with targeted traffic.
2. Connect With Your Customers & Prospects
Blogging opens up the lines of communication unlike traditional marketing. You will now have an excellent opportunity to find out who your customers really are and gain deep insight into their preferences and dislikes. Knowing your customers better will help you to find and keep more just like them.
Take the time to interact with your customers and prospects and gain valuable feedback while expressing your company's vision and goals.
3. WordPress – Advanced & Easy to Use Platform
Of course, the blogging platform of choice is WordPress, which can be downloaded from WordPress.org or if you prefer, VIP hosting and support is available at Vip.WordPress.com for large-scale deployments. Lots of big names are using WordPress such as CNN, Time and BBC; and we all know how successful they are online.
WordPress makes publishing content as easy as saving a Microsoft Word document while offering a professional platform that can help drive any business to online success.
4. Easy SEO Integration – Increase Targeted Traffic
Blogs are excellent for Search Engine Optimisation (SEO) and with WordPress, SEO integration is as easy as 1, 2, 3. Plugins such as All in One SEO Pack and Google XML Sitemaps makes mastering SEO and pleasing the search engines a cinch.
WordPress offers the ability to manage SEO while you write and create content targeted at customers and prospects within your niche. While there are many professional SEO's out there who charge an arm and a leg for their services, you will be well on your way to being a pro yourself or simply keep these tasks in-house.
5. Commanding Influence & Authority
Having a blog to complement your present marketing efforts gives the opportunity to build credibility and authority. Your regular marketing messages are good but can be like a resounding cliche in the minds of your prospects and customers. Blog posting allows for the excellent opportunity for your visitors to get to truly know your work and solutions, request help and advice. There's no better person to answer those product questions but you. Use this medium to build your authority and influence your customers to purchase.
Most importantly, take that first step and make your mark in the blogosphere. Your customers and prospects are spending much of their time online so its time to grab their attention, build relationships you've never had before and reap the rewards of increased traffic and sales.
Robyn-Dale Samuda is a Web Developer & is owner of Yuraki, a Website Development, IT Consultation & Online Marketing Firm in Jamaica. He has a passion for the web and helping clients achieve more online.