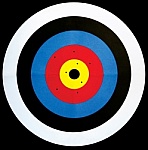 How can we not be obsessed with numbers?
Though blogging "gurus" assure us that statistics are not the only barometer to measure success, they do indeed tell a story.
After all, to not be "stoked" about stats contradicts our very way of life.
Numbers have always had significance in our culture and society.
Think about it.
Everybody knows that a woman who's rated a "10" is considered pretty hot stuff.
While Friday the "13th" is considered unlucky.
When we want to keep people in the know, we give them the "4-1-1."
I.Q. numbers are said to reflect our intellect,and we have 9-digit S.S. #s
to uniquely identify us.
Even the number of "tweets" now defines the elite.
Let's not kid ourselves; numbers count.
I must admit that in my earlier days of blogging, the numbers game had me focused on quantitative factors. As I frequently monitored stats and the number of visitors' comments, and rankings…oh my!
But, not so much anymore.
Here's why.
Numbers are not everything.
Here are four other equally important criteria to evaluate your blogging success.

1. Recognition of respected peers—Some time ago, I got a surprise Email from a very talented blogger whose work I admire. In it, she informed me that I had been featured at her site. In this particular post, I was identified as one of five great female bloggers to watch. To be reflected in such distinguished company really made me feel proud. And I appreciated that some one publicly recognized the quality of my work.
2. Span of influence—Are other bloggers talking about you at other sites? Are they building blog posts around yours and perhaps piggy-backing off your ideas? Consider it a compliment. I've witnessed this a few times when visiting the sites of fellow bloggers.
3. Growth—Are you adding more "bells and whistles" to your site to excite visitors and make their experience more enjoyable? Is your blogging I.Q. increasing? Are you mastering S.E.O. techniques? Familiar with popular plugins? Keeping up with industry-related news? These are things to consider.
4. Guest Post Requests—Another way to know that you're on the road to success, is when other bloggers request to have you appear as a guest on their site. Yay!
You can bet your bottom dollar that if your work was not up to par, people would not be seeking you out. It goes without saying that they would want someone whose talent and style reflects positively on their site.
Your turn. What do you think defines blogging success? Do tell.
Jennifer Brown Banks is a veteran freelance writer, popular relationship columnist, and Pro Blogger. When she's not immersed in the world of words, she digs simple pleasures like cooking, Jazz music, Karaoke and a good cup of tea. She is the former Senior Editor of Mahogany Magazine.