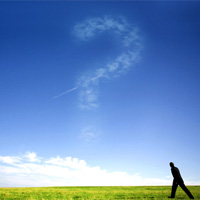 Your blog will fail. Sorry, it's the truth.
No one has been tracking how many blogs there are and how many have been abandoned, but it's safe to assume that there are hundreds of millions of blogs – the majority of which – have been left to die. Don't become a dead-pool statistic.
As a self-confessed "ideas guy," I am constantly getting the urge to start up new creative ventures. We all know how easy it is to start a blog. Almost too easy. But when I wake up at 3 a.m. in a cold sweat, an idea dripping from my brain, I ask myself a few basic questions…
1) Can I write 100 posts? Actually, the more important question is, what are my topics for 100 posts? Without A LOT of post ideas, your blog won't make it a month. Even if current events dictate your content, you need to prove to yourself that you have enough to write about. TIP: Break things down into categories and then fill those categories.
2) How much time do I have to commit? It's not the sexiest thought, but determining how much time you can devote to the blog, is essential. Blogging IS time consuming. Don't underestimate the minutes spent researching, proofreading, locating a picture, publishing, analyzing metric, and so on. It ALL adds up. Minutes lead to hours, and next thing you know, you're fighting blogging addiction.
3) How will I promote the blog? Writing stellar content is a critical component, however, as much as it pains me to say, it's simply not enough. And saying you'll use social media to promote your posts is a start, but it's not the full answer.
4) What is the goal? Do you want to supplement your income? Work for yourself? Get a star on the Web Walk of Fame? (The "Walk" doesn't exist yet, but I'm thinking of building it.) Be honest with yourself on why you want to blog. If the answer you keep coming back to is purely ego driven, you might want to consider another project.
5) Sleep on it. When an idea hits, there's often a panic moment of, "I gotta do this now before someone else does." If your blog concept is good, it will still be worth pursuing tomorrow, next week, or even in a year. Haste makes waste.
If you are thinking of starting a blog you should scope out the competition, bounce the idea off friends/strangers, ask yourself how the blog fits into your 'personal' life, and be ready to make a commitment – a serious commitment. It might not be 'I do,' but it's darn close.
After working for FOX News and MTV Networks, Andrew G. Rosen founded Jobacle.com, a career advice and employment news blog. He is also the author of The Exit Guide: How to Leave a Job the Right Way.