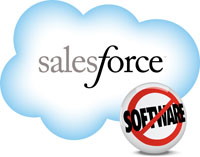 If Apple has this familiar adage that says "there's an app for that", WordPress has  a counterpart – "there's a plugin for that." Indeed, there are many WordPress plugins as there are many iPhone/iPod touch apps.  These plugins have made WordPress a very useful CMS that business can utilize to suit specific business needs. No matter how complex the business process is, there's got to be a WordPress plugin that will simply that process.
 
Take the case of  the usual business contact form which lets your user enter some data and then throws this into your email inbox. While this may be a viable solution for getting leads, the age-long problem on email spam might catch those valuable leads that users enter into your website's contact form.
 
Fortunately, there's a WordPress plugin for that.  Dubbed WordPress-to-lead, this plugin when combined with the Salesforce CRM, will definitely bring good tidings to your website.
  
Just like any other WordPress plugins, WordPress-to-lead is easy to install. Even those who are new to WordPress just need to follow some instructions in installing and activating plugins and they are good to go.  Basically, WordPress-to-lead does is to let you skip on the daunting task of going through your email inbox in search of those valuable leads sent by your users.  This plugin does that task for you and bring it to Salesforce CRM.  It is an efficient and time-saving way of  getting the leads as compared to manually copying and pasting the leads to Salesforce CRM.  This is also the reason why Salesforce.com supported WordPress-to-lead plugin. "Because the WordPress-to-lead plugin had the potential to really help their SMB customers, Salesforce.com enthusiastically offered to sponsor the program," said Yoast.
The plugin also lets you do the following:
syncs effortlessly with Outlook, Gmail, Yahoo! and more
tracks all your interactions and conversions
keep all your information and tasks organized under one roof


Check out this video to see this plugin in action:



If you want to try out the plugin in your website, you can sign up for Salesforce CRM free trial which is good for 14 days.
Author:
Franky Branckaute
Franky is CEO, Editor and Muppet on Duty at Splashpress Media and sporadically blogs about the professional online life at his personal iFranky blog, when he isn't annoying his colleagues or blog software evangelists. He also is regular Guest Lecturer on all things New Media and 'blogging'. Stalk him on Twitter or on Google+