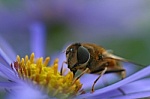 You've created clever content, chosen a design to "die for," proofed, previewed, and now you're poised to open your "virtual doors" as a proud blog owner.
There's just one problem.
So have thousands of other writers in your niche.
Welcome to the wonderful world of blogging. 🙂
Faced with stiff competition for today's reader's valuable time, how do you stand tall and stand out in a sea of many?

Here are a few fabulous suggestions to help you win friends and influence people!
1. Sponsor a contest on your blog—It doesn't have to be anything labor intensive or expensive. A few suggestions would be a trivia contest, or a slogan for your blog, or it can be based around a holiday or theme. Prizes could be anything from a badge you create for them to proudly display on their blog as a winner, or even just a title to possess with pride. You can even give away books that you've authored or a service.
2. Take advantage of the many social media avenues available to spread the word. Twitter, FaceBook and Stumble Upon are a few favorites.
3. Guest post. But be selective with your time and talent. To get the most bang for your buck, target blogs with high visibility and strong reputations such as BloggingPro.
4. Carry business cards with your blog address and nature of business to hand out at professional and social gatherings. It's a very inexpensive and yet effective form of marketing with great returns. You could even go a step further and create refrigerator magnets and pens with your blog identity as well. And don't forget to add your blog's URL to your signature line of your Emails.
Keep these four tips in mind when trying to keep your blog on the minds of friends, business associates, potential clients, and fellow bloggers. Carpe diem!
Jennifer Brown Banks is a veteran freelance writer, popular relationship columnist, and Pro Blogger. When she's not immersed in the world of words, she digs simple pleasures like cooking, Jazz music, Karaoke and a good cup of tea. She is the former Senior Editor of Mahogany Magazine.