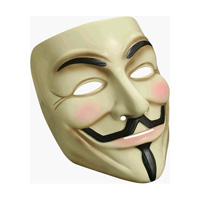 For years I wrestled with how to credit myself as a blog author. I was conflicted as to whether I should use my real name or a pseudonym. Somewhere along the line, I reached what I considered a happy medium; I used different variations of my name for different blogs. The thinking being that if someone was searching for me, like an employer or ex-girlfriend, all of my work would not appear off the bat. It takes some digging and piecing together to track down my full body of work, some of which, could be considered NSFW. That worked for me several years ago. These days, as my personal goals have shifted, I find myself working hard to bring all of my content under one tent. Here are the pros/cons of using a nom de plume for blogging.
PROS

Name changer. We spend our entire lives being called something that someone else chose for us. Even if a woman gets married, she has no control over her new surname. A pen name gives you a change to get creative and give yourself a name that matches your personality. How many tough guys named Frances do you know? Overnight you can take on a persona and become man's man Spike McCall or southern sensation Dusty Rivers. Cooler than the generic John Smith, no?
For the masses. It's not right, but people form opinions based on name alone. Judgement can be passed if a name is associated with a specific gender, religion or class status. Neutralize your name by picking something that is generic and not attached to any specific group. You also have a chance to break out of the "generic" name pack. If you are a John Smith (or an Andrew Rosen), a new name can help you rank better in search engines – or at least stand out from the pack.
Protection. What if your boss finds out you've been blogging nasty things about him? Or what if your mom sees that you told the world she dried out last night's steak dinner? Avoid offending people by concealing your identity.
CONS
Findability and Credibility. We live in a world where people are constantly stealing content. Things have gotten so bad that even Twitter will be looking to have bloggers pay to verify their accounts. In essence, you are your own brand. So if you are hoping to embark on a career path that involves you selling YOU, it becomes exponentially more difficult when you are juggling several pen names. It also scatters your work across search engine results, forcing people do some leg work to connect the dots.
Linked Forever. I once considered writing under the alias Werdna Nesor (my name backwards). Upon further thought, I realized that this might seem clever at 1am on a Tuesday morning, but do I really want to be attached to such silliness down the road? Since you never know when your content will sprout wings and fly, make sure you choose a pen name you are comfortable living with – forever.
Do you blog under your real name or a pen name?
After working for FOX News and MTV Networks, Andrew G. Rosen founded Jobacle.com, a career advice and employment news blog. He is also the author of The Exit Guide: How to Leave a Job the Right Way.