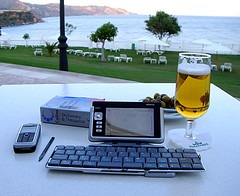 Problogger's Darren Rowse has a great article on the "unsexy truths" of monetizing your blogging. A lot of the truths that he mentions apply whether you're monetizing directly or indirectly, whether you're running advertising or selling products or services. Overall, I think that purpose and persistence are two of the fundamental keys of blogging success.
Why or For Whom Are You Blogging?
What Darren says, in a nutshell, is that persistence offers the potential (not the guarantee) of success online, but this often is the hardest aspect of blogging: that the return doesn't come fast enough (item #2). This could be either because a blogging niche is difficult to monetize, or because not enough effort is made to promote, or several other reasons, including really sloppy or poor content. When you couple lack of ROI in a desirable timeframe with the loneliness (item #7) of blogging from home — which I'm guessing most bloggers do — and the challenge of long hours (sometimes, not always) and the lack of human contact together often mean one thing: giving up fairly quickly, if you're blogging for yourself.