Blogging success seems to elude the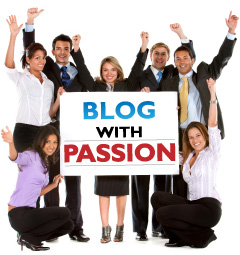 majority of bloggers who have taken that first step to start a blog. The initial excitement of building and owning a piece of virtual property can provide feelings of fulfillment and accomplishment. However, that's not all to the general idea of success and very soon after launch many bloggers ponder; "Why am I not getting any traffic?" "Why am I not making any money through my blog?" "Why, why, why?" Many of these questions go unanswered and unchallenged, then the day comes when all is lost and the blogging dream dies.
I will shout aloud that "It does not have to be that way!" You may be missing a key ingredient that has driven all truly successful persons to victory, riches and fulfillment. That ingredient is passion. So let's take a look at how we can manifest our success through blogging with passion.
What Are You Passionate About?
Its a very simple question yet one of the most important you could ask yourself. What do you daydream about? What topics, business or ideas gives you goosebumps whenever you think about it? What would you do or write about for the rest of your life? What could you spend your entire night doing, get 1 hour of sleep and still feel energized in the morning? If you can answer these questions truthful then you are on your way to finding what you should really be blogging about.
Many of us start blogging about topics that are trends that move like the wind or just copying a system that seems to work for others without truly developing a passion for it. I will admit that there are some general blogging niches out there that offer greater opportunities for making money than others but developing a passion for what you blog about safeguards a long-term and successful blogging future.
Its Easier To Write About Things You Have A Passion For
Ideally, a blog should be updated daily or at least 3 or 4 times per week for you to get maximum benefits and exposure, especially if you're a newbie. Now imagine trying to write about topics or a business that you do not have a deep knowledge about or a truly sincere and insatiable desire to know. You would be in for some long nights slaving over something that just seems like homework from your worst subject in school. Based on human nature, you will not be able to keep this up for long and your blog will eventually fail. Its just easier to write about something you are excited and passionate about.
Making Money Through Your Passion
Your passion is the easiest thing you could ever try to monetize, although it depends on your niche. You will be better able to develop unique ways of offering products and services through something you're passionate about since your mind will always be actively and subconsciously searching for ways to be better, be different and offer something truly unique and useful for your audience. Inspiration will flow like a river and you will always have blog post ideas and attractions for visitors. Your readers will feel your passion through your writing and will subscribe and be willing to spend money for your cause, products or services.
Stand Out Like A Pro By Blogging With Passion
Passion is what sets many pro-bloggers apart from the multitude. The average blogger writes the same things in the same way as millions of other bloggers. The average bloggers are oftentimes copycats who, when put to the test, cannot produce a single unique piece of content. This can happen to many of us if we follow the crowd and only blog based on what we can see. In the present environment, your passion will push you a 100 steps further, it will be evident in your writing, bloggers will look to you for inspiration, guidance and ask you, "How do you do it?" This is the ideal scenario if you truly want to be successful in blogging. So do the responsible thing and seek your passion.
Discussion
It may take some time to truly find your passion, so do not give up hope. Spend the precious time to quietly analyze and discover what it is that you truly want to achieve through your blog. When you find it, write it down, make a solid mental note and dwell upon it because its never too late to improve and save your blog.
How has your passion helped you towards success? What other benefits can be gained from blogging with passion that I may have left out? We would love to hear from you.
Robyn-Dale Samuda is a Web Developer & is owner of Yuraki, a Website Development, IT Consultation & Online Marketing Firm in Jamaica. He has a passion for the web and helping clients achieve more online.