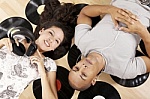 Not too long ago, I received an invitation from a teen-aged blogger to do a guest post on his blog.
I was flattered, but skeptical.
No disrespect intended, but frankly I've got shoes that have had more birthdays than this young fella', (and more mileage). 🙂
But, when I clicked on to his site, I was pleasantly surprised and impressed.
My initial chuckles turned into cheers!

What he lacked in "life experience" he clearly made up for in ingenuity, creativity, passion, and diligence.
He and others like him are becoming a force to be reckoned with on the blogging and entrepreneurial scene. Call them blogging prodigies if you will.
I am definitely a new fan and follower.
Whether you're a Baby Boomer, a Generation Xer, or somewhere else on life's timeline, here's what we can all learn from "Generation Y".

1. New School Ways—Today's youth bloggers are making their own rules in the blogging game. From innovative designs, to savvy plugins, to hot topics. They are true trailblazers and trendsetters.
2. Tech Savvy and Entrepreneurial Know-how—I learned more about monetization methods in one recent visit at Ben Lang's site, than any other single blog visit. These guys are definitely "doing their homework."
3. Energy! Whether these "rock star" bloggers are posting to their own sites, or doing "cameo" appearances, they get you geeked by having a great deal of enthusiasm and optimism in their language and level of interaction.
4. Omnipresence—These teen bloggers are making the most of the Internet and networking opportunities by making their presence known seemingly everywhere, and showing up and showing out, whether it's through guest posting, or bulletin boards, or social networking mediums.
And you should too!
By following these four savvy moves and blogging strategies, you'll enjoy greater success and benefit from some smart lessons provided by the future generation.
Share your perspective. Do you think it's possible to be "schooled" by younger generations? Have you visited any of their blogs lately and picked up useful tips? Do tell.
Jennifer Brown Banks is a veteran freelance writer, popular relationship columnist, and Pro Blogger. When she's not immersed in the world of words, she digs simple pleasures like cooking, Jazz music, Karaoke and a good cup of tea. She is the former Senior Editor of Mahogany Magazine.