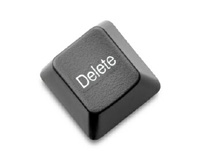 Every sport has unwritten rules, and blogging is no different. One unofficial "law" is that you should never delete any of your blog posts or the comments left by readers. But I'm not convinced. People are always talking about "online life" vs. "real life," but the reality is, we only have ONE life. The way we manage either component trickles into the other. That's why I submit to you reasons when it is OK to delete a blog post or comment. These are 100% opinion-based, and this isn't gonna be any fun if you don't play along. Read my thoughts and comment below…I promise not to delete any of your thoughts. (Well, maybe.)
You should delete a blog post or comment if…
– Every time you see it, it makes your stomach drop.
– You are thinking about it obsessively. I'm talking about 2am on your wedding night, psycho.
– Your mom questions why you wrote it. If a post won't make your mommy proud, don't publish it.
– You think it might upset your boss. Your "real" job pays the "real" bills. Tread lightly.
– Someone attempts to assassinate your character. Most of us are never going to get rich blogging, so you shouldn't endure any unnecessary grief.
– Unfounded behavior such as racism or prejudice. Freedom of speech might be a right in your municipality, but this is YOUR blog. If you think someone is off base, than feel free to edit accordingly.
– It's attracting spam. I have had several posts that evil spammers have latched on to. I would never eliminate a strong post, but if these bastards attached themselves to a weak post, sometimes it's easier to just kill the post then waste time filtering comments. At the very least, close comments.
Dealing with a few dead links or disappointed readers is easier than getting rejected for a job and wondering if it was the blog post that kept you from your dream career. The delete button was invented for a reason, use it sparingly, but use it!
After working for FOX News and MTV Networks, Andrew G. Rosen founded Jobacle.com, a career advice and employment news blog. He is also the author of The Exit Guide: How to Leave a Job the Right Way.