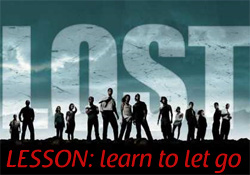 The LOST finale on ABC is over and fans of the show who invested an emotionally-charged half decade were rewarded with more answers than questions. A show that examined science vs. faith and "good" vs. "evil" ended up being a "simple" tale of holding on to your true love and learning how to let go.
Here are five blogging habits that you should let go of immediately.
Let go of…
PERFECTION. How many times are you going to re-write that blog? For how long are you going to plan? Do everything you can to check your facts and produce compelling content, but at some point, you just have to let it go. Hit the publish button and walk away. Just make sure you have good blogging karma!
POOR ME. It's so easy to point out blogs that you feel are not as strong as yours, and be left wondering why their traffic is blowing yours out of the water. Learn what these bloggers are doing by studying their work or reaching out to them with questions. Do not believe that you are jinxed "like Hurley. The only bad luck you have is the bad luck you are creating.

UNREALISTIC IDEAS. No one is telling you not to reach for the stars and go after your dreams, but it helps to be realistic about who you are and what you are trying to accomplish. Saying you want to be the next Darren Rowse or Perez Hilton is easy to say, but if you're not willing to put in an impossible number of hours and heart, you might as well check that vision at the door.

ANGER. No matter what your religion, we're all on borrowed time. The unexpected can flip the life you know on its head in an instant. So why waste your time watering the seeds of anger? Use these tools to reduce anger.

INDECISION. A confident blogger, is often a good blogger. Far too many bloggers (I'm guilty on occasion) speak in a passive voice. They are so concerned with pleasing the masses that they forget to take sides. They forget to tell the words how they really feel. Yes, you can attract more flies with honey, but how will those flies ever find you if you're, well, boring?
What blogging habit are you going to let go of?
After working for FOX News and MTV Networks, Andrew G. Rosen founded Jobacle.com, a career advice and employment news blog. He is also the author of The Exit Guide: How to Leave a Job the Right Way.