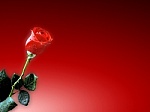 Don't take my word for it.
Surf the Net and you're sure to find millions of blogs devoted to every niche in the book.
Sleuth for blogs on blogging and there are more than I can possibly mention.
To attract and sustain the attention of today's busy readers, the savvy blogger knows that he must stand tall and stand out amidst a smorgasbord of endless choices.
It's no longer sufficient just to provide "good information."
That won't cut it.

Scores of blogs boast good information.
You have to bring more to the table than that my friend. 🙂
With this being said, I'll share some of my secrets to wooing with words.
1. Capture them without holding them "captive." Have you ever been held hostage by a conversation where a person kept going on and on and on like an Energizer bunny? Know when to exit! Blog posts should be brief but substantive, much like good poetry that resonates when read. If you need to be more expressive, break your posts into segments.
2. Show that there's a "real" person behind the words. On my blog for writers and bloggers, I often share my fears and foibles. The fact that I'm afraid of flying, am technically "challenged" at times, and even my celebrity crushes. I also share my sense of humor. You should too.
3. Write in a conversational tone. Talk to your readers, not at them.
4. Stand up for something. As a passionate writer, I sometimes choose principle over protocol. At the end of the day, I'd much rather be respected than robotic.
5. Don't fake the feeling! I absolutely love to write and to blog on various topics of interest. To connect with readers and keep them coming back for more, it's crucial to connect with your passion as well. You have to be motivated by more than money to go the distance.
Follow these five tips for bloggers and your readers will feel romanced by your work and engaged by your blog content.
Jennifer Brown Banks is a veteran freelance writer, popular relationship columnist, and Pro Blogger. When she's not immersed in the world of words, she digs simple pleasures like cooking, Jazz music, Karaoke and a good cup of tea. She is the former Senior Editor of Mahogany Magazine.