Putting motor vehicles aside, there is a such a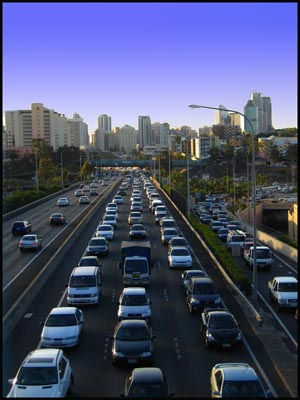 thing as good traffic and there's nothing quite like waking up in the morning only to realize that there's a spike in traffic to your blog from dozens of different sources you never even expected or even knew existed. As exciting as this sounds, achieving this can be quite difficult at times to achieve and eludes the average blogger, especially the newbies.
So, I've decided to share some easy traffic generating techniques that are guaranteed to lift you higher up the blogging ladder and bring you that feeling of fulfillment in seeing your blog's popularity increase.
1) Sign up for the major social bookmarking and networking sites
Sign up and start aggressively using sites like Twitter, Facebook, Digg, Reddit, Stumble Upon and as many others you can find. Ensure that you at least have a couple of share buttons on your site which will allow readers to spread the word about your posts. I personally recommend Tweet Meme and the Sexy Bookmarks plugin.
There are some new and upcoming bookmarking sites to use and watch that can help give new bloggers frequent and steady increase in traffic like BlogEngage.com, BloggerDen.com and MMOSocialnetwork.com.
2) Update your blog regularly
Provided that your content is great quality, visitors will keep coming back for more earning you loyal readers. Frequently updated content is usually quickly indexed by google; this will give you a distinct advantage of being found in search engines, especially if your blog focuses on late and breaking news.
3) Comment on at least 10 new blogs per day
This can be a very time consuming task. Try to find blogs within your niche that produce content that interests you. Ensure that the comments you leave are not spammy or solely for self promotion but adds value to the site. 9/10 times the blog's author and other readers will click through to your site, so ensure that your content is ready for them when they arrive.
4) Fine tune your SEO skills
Learn the basics of SEO to ensure that your blog is optimized to benefit from search engine traffic. Simple techniques like using heading tags, pretty permalinks and title tags for your images does wonders for capturing search engine traffic.
5) Offer additional services through your blog
Diversify your blog to create different reasons for persons to visit your blog. So, if you're blogging about web development, offer web design services, logo design services or do some reviews. This way you will capture all types of different leads without straying from your niche.
6) Purchase some banner ads.
This traditional means of advertising is still very effective once placed on the right sites using the best messages to capture viewers' attention.
7) Guest Blogging on high traffic sites
Guest blogging is an excellent way to build authority within your niche and get the attention of a wide new audiences. This is especially effective if you target high traffic blogs. I know there are many bloggers out there who are quite timid when it comes to guest posting, so you will find some awesome guidelines here for mastering this technique: The Ultimate Guide To Guest Blogging – Massive Techniques for Achieving Success
8) Submit your blog to blog directories
Directories are not dead as some may say. Find some directories with high pageranks that are continuously updated. This will in turn build your pagerank and improve your blog credibility in google's eyes. Thus providing you with higher search engine rankings.
9) Accept guest posts to your blog
While you network and connect with other bloggers, you are bound to meet influential players in the blogosphere who have huge followings. Be open to accept and ask for guest posts. These guest posts will be promoted by the authors and can attract thousands of their dedicated readers to your site. Of course, ensure that your blog is up to the task and can provide awesome content to capture the attention of some of these new readers.
10) Allow subscriptions to your blog
Ensure that your blog provides easily accessible links for your readers to sign up for your feeds through feedburner, receive e-mail updates and follow you on twitter and other major profile pages.
11) There's nothing wrong with a little controversy
Although this might be a bit risky depending on the topic, a controversial story that goes viral can attract huge spikes of traffic to your blog and make your blog a hit for the medium-term. Ensure that your web hosting service can handle the increase in traffic.
12) Make your blog mobile friendly
You can find lots of WordPress plugins that will make your blog mobile-friendly. This way you will be able to cater to a tech-savvy audience that are always on the go and browse mainly through their mobile gadgets.
13) Sponsor or develop a WordPress blog theme
If you have some serious web development skills and are willing to give away a couple of themes for free, this will definitely attract a rush of visitors to your blog who may want to try out your new themes. This is also a great way to make some money and allows you to promote other paid themes and services.
14) Write a free e-book
Publish a free e-book that provides lots of useful information for your readers. This should not be about things that are regurgitated on a daily basis but offer a great amount unique value for your audience. Try to be different.
15) Post to popular forums
Getting involved with forums like Digital Point can attract a mssive amount of traffic if you're truly active and provide lots of value through your posts. This technique works like a charm for many bloggers and accounts for up to 40% of some blog's traffic. Most of digital point's users utilize the alexa toolbar which will help to tremendously improve your ranking.
Discussion
Following the tips above will guarantee a sustainable rush of traffic to your blog. Hopefully, you will be ready when you achieve it.
Which traffic generating techniques have worked best for you that you would like to share with us. We would love to hear from you.
Robyn-Dale Samuda is a Web Developer & is owner of Yuraki, a Website Development, IT Consultation & Online Marketing Firm in Jamaica. He has a passion for the web and helping clients achieve more online.