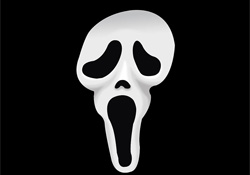 I'm proud of myself. I went the entire three-day weekend without blogging. But I did spend some time doing what I normally avoid, and that's reading other people's blogs. Without pointing fingers, there were several consistencies that I came across that really got under my skin. Here are my top five. You are invited to share you "Blogging Don'ts" in the comments section below.
DON'T Link to Wikipedia. While the majority of information found in Wikipedia is accurate, the mere fact that anyone can change information on the fly, makes it risky to cite as a source. Plus, in my view, it's the "easy" way out. A good blogger should go a step further and try to get one step closer to defining a word, phrase or place. Not only does it show effort that makes me want to read more of the blogger's work, but it usually leads to a more interesting experience.
DON'T Use Large Images. At least not ones that take away from the readability of an article. If an image pushes content below the fold or causes the wrap around text to break too frequently, consider moving to a smaller image size or adjusting your blog template.

DON'T Underestimate "About Us." Many readers stumble upon your blog blindly; that means they are reading your work without a clue of who you are or what you are about. Take the time to explain the tone of your blog and why they should be reading your work. When I run CrazyEgg heatmaps on my site, I find that 'About Us" is the second-most-clicked page.
DON'T Forget External Links. In my case, I was a "writer" before I was a "blogger." That means I will occasionally overlook adding external links into my blog posts. But adding links is a critical part of blogging success – so make it part of the job. After all, everyone loves reciprocity, right?
DON'T Be Scared to Voice Your Opinion. When writing a blog post or leaving a blog comment, the more polarizing your statement is, the greater potential you have to get people to click over to your site or come back for more. I sometimes think of shock jock Howard Stern. He has said before that more "haters" listen to him than fans because they want to hear what he'll say next.
So what gets your goat?
After working for FOX News and MTV Networks, Andrew G. Rosen founded Jobacle.com, a career advice and employment news blog. He is also the author of The Exit Guide: How to Leave a Job the Right Way.