Blogging is one of the easiest activities to get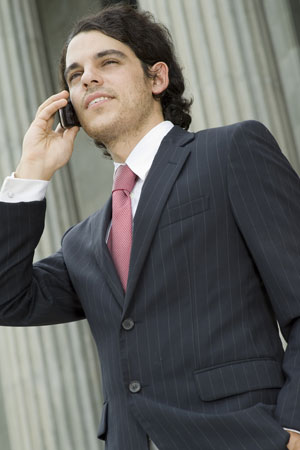 started online to make your voice heard. Especially now since web hosting is more reliable and affordable; and with the free, robust and user-friendly blogging platform, WordPress, we see over 100,000 blogs being launched daily.
Since I'm always an advocate for going the extra mile to stand-out there are some proven techniques that can help you get noticed through the eyes of your prospective employer. Blogging is no longer not just a pastime but an activity that can launch you towards your desired success.
Here are 7 simple guidelines and techniques for landing your desired job.
1. Be Professional or Control Your Privacy
In all your online activities, be professional! Over the course of a few years there may be hundreds of thousands of eyes that have glimpsed or dug through your social profiles, especially if you're somewhat of a social butterfly. Surely there is a huge possibility that a potential future employer may have seen your profile and a blog is more open than a social profile such as Facebook where you can control who sees what. So if you're planning on working in a '9-5' be aware that there are eyes watching. Be professional in all your blogging activities.
2. Choose Your Blogging Topics Wisely
When it comes to blogging, do not choose topics where you spread rumors, talk negatively or defame another person's character. Employers are very wary of negative employees and are considered poisonous to their organization. So point blank, don't do it.
3. Stick To Your Niche
I always encourage others to pursue jobs that compliment their passion where possible. I know there comes a time in life when you need 'A' job rather than 'The' job. However, always aim for that 'passion job.' So if you're studying real estate and this is your life's passion, blog about it consistently. Your potential employer can gain insight into your knowledge, interests and passions and if you're really going all out, he/she will be impressed by what you have written even before an interview.
4. Do Not Use Free Web Hosting
If you want anyone, even employers, to take you seriously; purchase your own domain name and hosting. Do not use free hosting services such as wordpress.com but invest $80 per year in a good host. This displays a higher level of initiative and shows that you are focused and in it for the long-run.
5. Engage Your Prospective Employers' Blogs
Find out if your employer has an active blog for their organization. Become an avid contributor by leaving comments and useful suggestions. If you really are passionate about the job, then this should not be difficult. This is an easy method for getting noticed and will provide opportunities for deeper conversations and increase the likelihood that your prospective employer will want to know more about you when they finally do see your resume. When commenting, ensure that your blog is up and running and displays your best work. Always be ready for someone who chooses to click back to your site.
6. Create A Profile Page That States Your Successes & Expertise
An 'about me' profile page can serve as an online resume and will spark the interest of your site's visitors if written in an engaging way. This is an opportunity to put your best foot forward and can even land you some very decent freelance contracts. So don't be shy about sharing your history, put yourself out there.
7. Include Links To Your Blog On Your Resume
As part of your work described on your resume, be sure to clearly highlight your passion and successes achieved through your blog in such a way that it relates strongly to the job you're applying for. Every employer wants a worker who is lively and full of passion, so ensure they have access to your blog as proof of yours.
Discussion
Blogging is an excellent way to impress your visitors and potential employers and allows you to provide more information than what is appropriate for a regular resume. Start thinking about your dream job and how you can use blogging to engrave your name on the map.
Have you had any success with potential employers through blogging? Do you have any additional tips or guidelines you would like share? Please leave a comment, we would love to hear from you.
Robyn-Dale Samuda is a Web Developer & is owner of Yuraki, a Website Development, IT Consultation & Online Marketing Firm in Jamaica. He has a passion for the web and helping clients achieve more online.