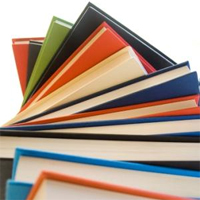 I have recently incorporated book reviews that fit within my blog's niche on my primary Website. I am already seeing positive results. Here are a few reasons why I am a fan of doing relevant book reviews on your blog.
1) CONTACTS. Connecting with public relations folks, whose primary job is to drum up publicity for authors/titles, is a win-win situation. First, if you do a nice job with a review you will easily be able to acquire future titles. There is also a chance that your name/email will be passed along to others in the industry. This can lead to more review opportunities and even other free products. Second, every contact you make today can be tomorrow's freelance opportunity. When that PR pro is looking for blogging help, they might turn to you to do the job.
I have also been surprised at the number of authors who have visited my site. Not only is this a great way to boost your traffic, but another way to get connected with an accomplished professional that you might never have networked with otherwise.

2) REVENUE. OK, so no one is gonna get rich off of Amazon Associates, but coding your book links as an affiliate at least gets you in the money-making game. Your vendor code will be passed no matter what your website visitor buys. A book sale might only generate a few cents, but if that person gets sidetracked and buys a PC or other expensive electronic, you can be looking at "real" money.
3) SEARCHIBILITY. As a blogger, you need to learn to ride on the coattails of another's PR machine. Books are often promoted via media tours, interviews and press releases. If you review a book at the right time, you will see some of that traffic by utilizing some simple SEO tactics. That way when someone comes across the book and looks for it via search engine, you will reap some of the rewards.
The only downside is that book review blog posts take time. Simply repurposing the sleeve summary won't cut it. Your readers will want to understand what the book is about and hear your opinion. And let's not forget – you get free books that interest you! Do you have any pros/cons of book reviews that you'd like to share?
After working for FOX News and MTV Networks, Andrew G. Rosen founded Jobacle.com, a career advice and employment news blog. He is also the author of The Exit Guide: How to Leave a Job the Right Way.