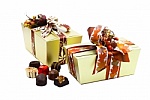 In a popular movie of former years, Forest Gump compared life to a box of chocolates. "You just never know what you're gonna' get," he tells us.
That is, according to "mama".
Well, perhaps there was a grain of truth to that statement.
And, much the same, blogging has the same potential.

In some ways blogging can be nothing like we expected, and in other ways it can be more than we ever imagined. True?
Here are a few examples of how blogging can be like that assorted box of chocolates, and how to best embrace it.
• Blogging is rich. Unlike some bloggers, I actually am first and foremost a writer. And yes, I think there is a difference. 🙂 I really didn't know what to make of the blogging phenomenon, or whether I'd even take to it. My initial reason for taking the "plunge" was because I wanted to build a stronger platform for potential book sales. But somewhere along the line I found that I really liked it! And folks liked me. Go figure. Blogging indeed adds "richness" to most writers' lives in that there is a great deal of interaction with readers, and the connections and experiences can prove to be pretty awesome!
• Blogging can provide those "feel good endorphins". I'm not certain whether it's the "venting" element of blogging, the fact that it has fewer "rules" than other genres of writing, or that it's less formal in nature. But there's no denying that I feel better post my blogging posts.
• Blogging is "assorted" with an array of experiences and reactions, and even a few "nuttty" episodes in the mix. Sometimes you can labor long and hard on a post and publish it and get "0" comments. Nada. Then other times you prepare something and don't really expect it to be well received, and it's a huge hit! Huh? Don't despair. Always give your best, but know that you won't always be a big hit, despite your efforts.
How about you? How would you compare your blogging experience to a box of chocolates? Or any other analogy…
Jennifer Brown Banks is a veteran freelance writer, popular relationship columnist, and Pro Blogger. When she's not immersed in the world of words, she digs simple pleasures like cooking, Jazz music, Karaoke and a good cup of tea. She is the former Senior Editor of Mahogany Magazine.