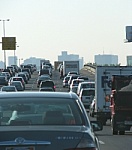 The unenlightened blogger often brags (in his posts) about the number of weekly visitors he receives to his site, as if it were the "ultimate" qualifier for success. Don't get me wrong, site traffic is an initial indicator that perhaps we're at least doing something right in regards to our blogging efforts.
But, it shouldn't be our end goal, or final destination on the road to success.

Think of it this way. It's like being asked out on a hundred "first dates" and never being asked out again. Ouch.
In other words, if folks merely come, take a peek at what you've presented and never return, what have you actually achieved?
The goal should be not to serve as a mere "diversion" to today's blog reader, but instead to cultivate dedicated readers and loyal fans.
Why?
Because loyal readers help to provide a sense of "community" where people feel like they are a part of something. It provides a sense of continuity, and helps to attract an even larger following.
With this in mind, here are five fabulous ways to convert "passer-by" traffic to loyal, regular readers.

1. Provide engaging content—Value your readership. Give them posts that provide take-away value for the time spent with you. Give them tools, techniques, and tips that they can't find just about everywhere else on the Net.
2. Respond to readers' comments. Nobody wants to feel as if they're in a one way conversation. Even if your response is as simple and limited as "thank you," do it.
3. Post regularly—Whether it's once a day or once a week, be consistent. Even if it's not lengthy; as long as it's quality.
4. Stay on topic—Although there are different schools of thought on this one, most readers don't like to be confused as to what to expect from their site visits. Blogs on writing should be about writing. Blogs on cooking should have culinary topics, and so on. It's okay to deviate a little bit every once in a while, (especially if there's a good reason behind it), but don't make it a habit.
5. Make your blog interactive and entertaining. Encourage input. Conduct polls or surveys. Sponsor contests. Ask engaging questions in your posts.
Follow these five tips for greater success in garnering loyal followers.
After all, unless you're BEYONCE or SHAKIRA, a high "bounce rate" is a bad thing.:-)
Jennifer Brown Banks is a veteran freelance writer, popular relationship columnist, and Pro Blogger. When she's not immersed in the world of words, she digs simple pleasures like cooking, Jazz music, Karaoke and a good cup of tea. She is the former Senior Editor of Mahogany Magazine.