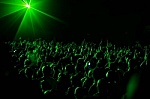 For the first time since his death, I was finally able to sit down and view the last taping of Michael Jackson's life via the come-back concert, "This is It".
I was a big fan, and the thought of this loss was too great to pack the theaters with his "groupies" when it was first released.
I'm glad I did.
After viewing this 2-hour film, one thing is for certain.
Love him or hate him, Michael Jackson leaves an indelible mark on pop culture.
He had presence. He inspired millions.
And it was obvious to see in his work that here was a man of passion that enjoyed bringing joy to his fans and followers all over the world.
Today's blogger should take note.
In fact, there are many lessons to be learned from his career. Today I'll capture the most important ones.

1. He had universal appeal. It was truly awesome to see people of all different races, regions, religions and backgrounds chanting his name, "Michael, Michael"! Some could barely speak English. But he spoke a universal language with his smile and his smooth dance moves. Today's bloggers can have the same universal appeal across the Net by using anecdotes and experiences that tap into common emotions felt by everyone like laughter, love, and hope.
2. He danced to his own tune! Michael was an original man. From his moonwalk, to his sequined glove, to his lyrics, he was the "real deal".
In your blogging efforts, you should be too.
3. He worked hard, but he had fun along the way. Whether it was teasing with his band members, or giving an interview, he was careful not to always take himself too seriously.
4. He was unselfish. He embraced others in the entertainment community by doing collaborative projects, by giving concerts to raise awareness of certain important social causes, by donating millions to charity, and he even mentored to others. Bloggers can emulate this by sharing knowledge and working together to enhance the blogging community as a whole.
5. He was dynamic! And you can be too. Use active words instead of passive. Choose colorful expressions when the situation allows. Capture your reader's attention without holding them captive. Write with eloquence. And most of all remember that practice makes perfect!
In the words of Michael, "Don't stop til you get enough!"
Your turn. Do you agree or disagree with these tips for today's bloggers?
Jennifer Brown Banks is a veteran freelance writer, popular relationship columnist, and Pro Blogger. When she's not immersed in the world of words, she digs simple pleasures like cooking, Jazz music, Karaoke and a good cup of tea. She is the former Senior Editor of Mahogany Magazine.