This month, Sysomos released a new report based on an analysis of over 100 million blog posts.  The report provides updated data about the demographics of bloggers around the world.  Check out some of the stats below:
Blogging is equally popular among both men and women with 50.9% of bloggers being female and 49.1% being male.
The majority of bloggers are between the ages of 21 and 35.  Specifically, 20.2% are under 21, 53.3% are between 21-35, 19.4% are between 36-50, and 7.1% are 51 or older.
The United States has the largest share of bloggers with 29.22% of bloggers coming from the U.S.  You can see a more detailed breakdown in the chart below.
California is the Blogging State with 14.1% of bloggers.  That's nearly double the next closest state, New York, which has 7.16% of bloggers.  You can see more details in the chart below.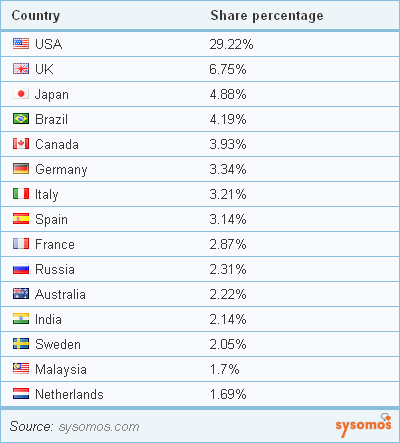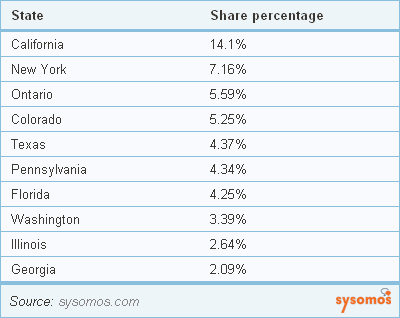 So what do these demographic statistics tell us?
The world of blogging is truly a global one.
Blogging is open to everyone, regardless of age, gender, or location.
There are still a lot of opportunities for blogging to grow within demographic segments and in geographic locations.
In other words, while you might hear musings that blogging is already past its prime, the statistics show that there is still much life left in the lifecycle of blogging, particularly as the role of blogs moves from personal user-generated content to authoritative content sources.  In recent years, many news organizations and companies have repositioned their bloggers as online publishers in an attempt to separate personal blogging from authoritative media publishing.
The question is whether or not the term 'blog' is still viewed by the online audience as little more than online diaries and personal soap-boxes, or if the term has grown to be recognized by that general audience as something more and an authoritative publishing source.  Can the general audience make that distinction?  Is there value in authoritative publishers using the term 'blog' or should they move away from it?
What do you think?  Leave a comment and share your opinion about the perception of blogging as it stands today and in the future.
You can follow the link to read more details from the Sysomos blogger demographics study.
Susan Gunelius is a published author and President & CEO of KeySplash Creative, Inc., a full-service marketing communications provider also offering branding and social media consulting services. Susan also speaks about marketing, branding and social media at events and conferences. Her marketing-related articles have appeared on Web sites such as Entrepreneur.com, Forbes.com, MSNBC.com, BusinessWeek.com, FoxBusiness.com, and more.