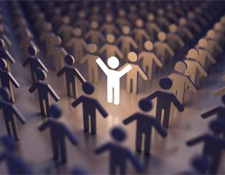 You are part of your brand. Your blog is part of your brand. Put them together, and guess what, you have your brand.
I realize that most bloggers don't want to hear that. If you're the typical writer personality type you'd much rather blast some tunes and craft a 1,000-word post than worry about "selling" a brand. But every time you hit publish, like it or not, you are representing your brand. One key to establishing your brand as an authority on a subject, which is something that all niche bloggers should be looking to do, is to be consistent. I'm talking about a constant tone, a constant name, a constant logo, and so on.
Here are a few ways to keep your brand on track.
USER NAMES. Assuming your blog name is a reasonable character/word length, I recommend using it as a user name for every website that requires a login. When I search for my primary blog's name (Jobacle), I find that many of the top results are sites other than my blog where I have registered under that handle. While you might think this is detracting from direct traffic, I like the fact that each of those other sites is an avenue back to me. With so many people relying on search engines to get where they want to go, you need to give your name a shot at showing up high on the list. An added bonus is that you'll never forget your username again!
SOCIAL NETWORKS. Now that you are using the same handle on Facebook, Twitter, etc., it's important to keep the image that represents your brand consistent. I realize that avatar image sizes vary. But your best bet, if possible, is to find a way to incorporate yourself and the blog logo. Perhaps it's you with a sticker on your forehead or holding up an iPad with your blog displayed, whatever you choose, use the same image on ALL websites and networks. That means when you change it (which is recommended every 9 months or so), you will need to update it everywhere. Do yourself a favor and keep a running web-based document of all of the places you are registered with a photo.

AUTHOR NAME. If you have a name like mine, you have several options on what to call yourself (Andrew, Drew, Andy). Pick one variation for your brand and stick with it. You'll have enough trouble ranking well in search engines, why split your brand off in different directions? That means either use your middle name or don't. There might be times you choose to blog anonymously, but when you are out in the open, keep it under a single name.
DESCRIPTION. Guest blogging is an amazing way to get your name and blogging skills out in front of the world. Many blog owners will generously give you space for a brief bio. Much like your avatar, I suggest coming up with a blurb that sells you and your blog. It's the best of both worlds!
For example:
Werd Nesor is the founder of FakeBlogName, a website that blablabla. With 15 years of blablabla experience, he is an authority on blablabla.
Use your one-liner universally.
SUMMARY. The clash between edit and sales is a battle that will wage on long after peace washes over the Middle East. As a blogger, it is your job to be both the writer and salesperson. By representing your brand consistently – which is YOU – you have a better chance of appealing to potential advertisers, blog purchasers, and hiring agents.
Full disclosure: After writing this up I realize that there are things I personally can be doing a better job with.
After working for FOX News and MTV Networks, Andrew G. Rosen founded Jobacle.com, a career advice and employment news blog. He is also the author of The Exit Guide: How to Leave a Job the Right Way.