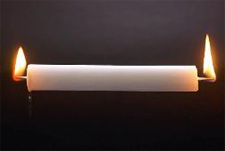 BURNOUT: physical or emotional fatigue.
It happens to everyone. Hard workers, lazy trolls, and everyone in between. Inevitably, we all succumb to burnout. That's why I've been known to take an occasional 48-hour power down. There are many ways to re-energize your blogging spirit. Here are my three favorites.
1) STEP AWAY. Take a full step back from your daily blogging activities. This is more than not logging into WordPress. You need to shut down ALL blogging-related actions. That means no talking about blogging, no thinking about blogging, no scavenging for blog post ideas, etc.
Detaching is scary. The Web moves so fast that we are programmed to believe that someone new will come along and swipe our readers away from us. With very few exceptions, I guarantee that a few days away will not break your blog and you will not miss the opportunity of a lifetime.
2) ANNOUNCE YOUR "BREAK." Tell your readers that you taking a step back. Personally, I like when blog writers keep me in the loop. I also appreciate the fact that they have the wherewithal to recharge their batteries. Telling your family and friends that you need a blogging rest will help them steer the conversation away from any blog-related topics. There's no shame in admitting you are "burning out." It is not a sign of weakness. On the contrary, an admission to yourself and others shows that you care about what you do – and more importantly – you care about yourself.

3) CHANGE YOUR ROUTINE. We all rely on routine to a certain extent to structure our lives. But Routine has a brother, and his name is Complacency. I am a huge fan of shaking things up every now and again. In my "real" life, that means taking a different route to work or trying something completely different for lunch (hey, it's only ONE meal!). For my blogging life, changing my routine is trying a new post format (i.e. – using a letter format, writing a rant, responding to another blogger's post, etc.) or researching something I have limited knowledge on. The goal is to do something out of left field as a way to recharge my batteries. If I'm burnt out and not interested, how can I expect to engage readers?
What tactics do you employ to fight blogger burnout?
After working for FOX News and MTV Networks, Andrew G. Rosen founded Jobacle.com, a career advice and employment news blog. He is also the author of The Exit Guide: How to Leave a Job the Right Way.