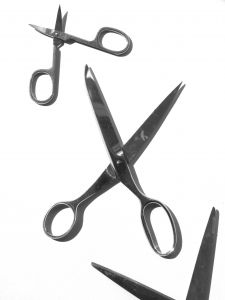 There will  come a day when a comment lands in your moderation queue that you don't want to publish.  Of course, it's your blog, and you have complete control over what you do and do not publish on it.  However, if you're trying to develop a popular and successful blog, then simply deleting every comment that offers an opinion which differs from your own is a mistake.
The best blogs allow open conversations and encourage visitors to voice their opinions.  However, that doesn't mean your blog should be a free-for-all where anyone can say anything they want and you'll publish it.  Instead, you need to use your best judgment to edit or delete comments that detract from the user experience on your blog.
There is just one big problem.  You don't want to be accused of controlling the conversation on your blog, and that's where having a Blog Comment Policy is essential.
A Blog Comment Policy allows you to set user expectations and protect yourself if your edit to a comment or deletion of a comment is ever called into question.  You can simply refer people to your published Blog Comment Policy to learn what types of contents are edited or deleted on your blog.
Following is a sample Blog Comment Policy, which you can use to get started in writing your own.  Of course, you Blog Comment Policy should reflect your own commenting guidelines for your blog.
There are some instances where comments will be edited or deleted on this blog.  Following are some of those conditions:

Comments that may be considered spam will be deleted.
Comments including profanity will be edited or deleted.
Comments containing language or concepts that could be deemed offensive, hateful or libelous will be deleted.

We reserve the right to edit or delete any comments submitted to this blog without notice. This comment policy is subject to change at anytime.
Remember, the purpose in creating a Blog Comment Policy is to protect you and your audience, so the user experience they expect to get on your blog is not threatened.  Publish your comment policy and be sure to include a link to it from all pages of your blog.
What kind of comments do you delete or edit from your blog?  Leave a comment and share your opinion.
Image: stock.xchng
Susan Gunelius is a published author and President & CEO of KeySplash Creative, Inc., a full-service marketing communications provider also offering branding and social media consulting services. Susan also speaks about marketing, branding and social media at events and conferences. Her marketing-related articles have appeared on Web sites such as Entrepreneur.com, Forbes.com, MSNBC.com, BusinessWeek.com, FoxBusiness.com, and more.