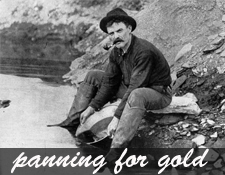 As a blogger you already know that hunting down original topic ideas can be the most time-consuming part of your day.  Aside from checking the usual news sources, there are several other places to check for subjects – and with these websites – you might even "scoop" the big boys.  Being first isn't always best, but when it comes to the blogosphere, I have often found that it never hurts.
ALLTOP: From career advice to sports, Alltop aggregates the best blogs in each niche and displays the five most current headlines.  Mouse over a title and read an excerpt to see if the story interests you.  Feeds are updated once an hour.  A team of "real" people review blogs to see if they are worthy.  Not listed? Contact the team here and tell them Andrew from BloggingPro sent you.
PRNEWSWIRE: In business for over 50 years, organizations both new and old rely on PRNewswire to spread their message on the Web.  The homepage always has three timely topics.  For example, today you'll find releases related to the Fourth of July, the Gulf oil spill, and the 2010 World cup.  You can search for products and services or browse by industry, popularity or media type (audio, video, etc.).
PRWEB: Tens of thousands of journalists and bloggers subscribe to PRWeb to stay on top of the trends that matter to them most.  In business since 1997, this site focuses on giving small businesses a method to communicate their message.
HARO: Help a Reporter Out is the brilliant free service started by entrepreneur Peter Shankman.  Over 30,000 reporters and bloggers opt-in to receive emails.  Each message contains a list of reporters looking for experts and sources.  Bloggers can get topic ideas, get free press or land an interview.
PR.com: Once you establish your blog as a player in your niche you will receive attention from PR companies making their pitch.  But if you are new to the game, it never hurts to reach out to these folks to get on their radar.  Use this directory and introduce yourself (and your blog) today.  Odds are that if you promote a single item, you will start to see your inbox fill up with other pitches.  Some you'll take, others you'll leave – but it's worth the inbox clutter to uncover an occasional gem.  This is also a great way to get press releases before they are released to the general public.
What websites do you use to stay on top of the latest topic ideas?  Keeping them to yourself is bag blogging karma – so share today!
After working for FOX News and MTV Networks, Andrew G. Rosen founded Jobacle.com, a career advice and employment news blog. He is also the author of The Exit Guide: How to Leave a Job the Right Way.