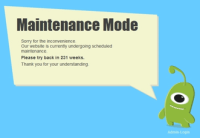 It doesn't take much to make me happy.  Sometimes a little WordPress plugin comes along that makes me smile, and WP Maintenance Mode is one of them.
Let me start by saying — I'm not a web developer.  I'm not a blog designer.  I know just enough CSS and HTML to be dangerous, and I have no problem keeping it that way.  Would it be super handy to know CSS and HTML?  Absolutely, but it's one of those things that always gets pushed down in my list of priorities.
So now that I've revealed that little snippet from my life, back to the WP Maintenance Mode plugin.
Why do I like this plugin so much? 
Because I'm not a code-guru and I don't have test sites set up where I can test new things, slowly redesign my blogs, and be a cool designer.  The design changes I make myself are typically fairly minimal because I don't have time to spend tweaking, testing, and so on.  That means my blog could be down for a few hours or overnight while I do the redesign or work through any kinks in the process.  However, I certainly don't want people to visit my blog during that time and find a complete mess when they get there!  I'd rather they see some kind of "under construction" page for that short amount of time.
That's where the WP Maintenance Mode plugin comes into the picture!  This free plugin allows you to choose from several pre-designed pages to be your WordPress blog's temporary landing page while you're doing any edits that you want to hide from the world.  Visitors who come to your blog when the plugin is activated land on your chosen "under construction" page, which you can customize with your own messages and in multiple languages.
The coolest part is that when the plugin is activated and you're logged into your WordPress account, you can see all of the pages of your blog as you update them while visitors only see that under construction landing page.
Like I said, I love WordPress plugins that offer simple yet very useful functionality, and WP Maintenance Mode does exactly that.  Plus, it's incredibly easy to set up your customized landing page.  Check out a few options below: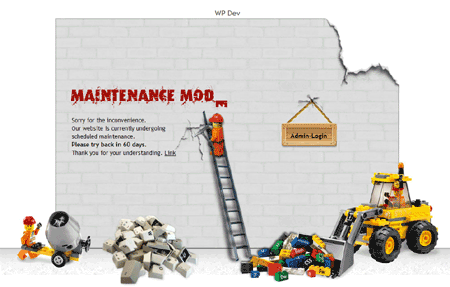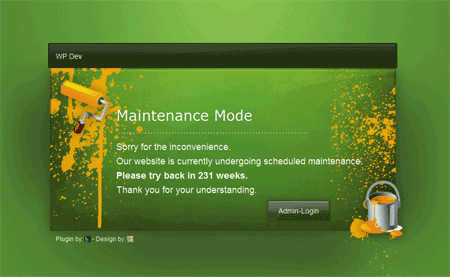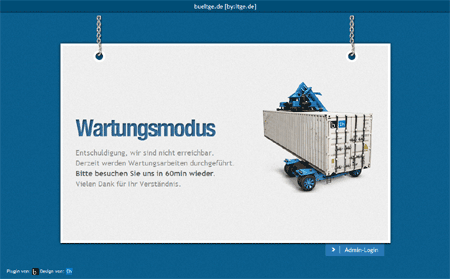 Oh — and WP Maintenance Mode has been tested and is compatible with WordPress 3.0!  What do you think?
Susan Gunelius is a published author and President & CEO of KeySplash Creative, Inc., a full-service marketing communications provider also offering branding and social media consulting services. Susan also speaks about marketing, branding and social media at events and conferences. Her marketing-related articles have appeared on Web sites such as Entrepreneur.com, Forbes.com, MSNBC.com, BusinessWeek.com, FoxBusiness.com, and more.