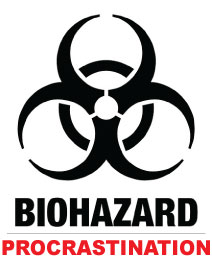 There are many habits and practices that affect our abilities to truly succeed in blogging. For many of our bad habits, we are not aware of them until someone points them out to us or we see others complain about them. Thus it is very important that we are aware of all that we are doing by conducting some critical self analysis.
Truly successful blogging requires the same effort as would any other goal or vision; and many of us are experiencing failure because we allow bad habits to creep in and take over. One of the deadliest habits we could ever allow and become complacent with is procrastination. Continuously putting off those great post, product or service  ideas for later will inevitably cripple your blogging efforts.
Here are some highly effective tips for defeating this deadly disease to help you experience ultimate blogging success.
Know Where You Stand
Denying that you have a problem and pretending to be the best in the industry are the worst things that you could ever do when it comes to overcoming this habit and building a solid reputation online. Before anyone else gets a chance to criticize and make suggestions, ensure that you are steps ahead of them and you've already started that analysis. By doing this, you should be able to correct the problems before it truly becomes a crippling issue.
In addition, there's nothing worse than someone who brags about how great their blog is then to realize that they lack the even basics. Denial of procrastination and other bad habits can put you in this precarious position.
Simple Tasks To Help You Overcome
Based on my own experience, up to 90% of tasks that are put off usually go by undone or executed at a time when the results are not all that wonderful. You'd be very surprised how simple it is to just do what you need to do!
Here are some quick and simple techniques to help you overcome this bad habit:
Break down huge tasks – For huge, complicated and time consuming tasks, you really need to simply break them down into smaller activities so that all you need to focus on each time is small and simple steps.
Write down your goals and objectives – Putting your goals on paper has a tremendous psychological effect and makes the things you need to do and achieve more tangible and realistic. Thus giving you greater drive to do more.

Set time limits for your goals and tasks – Start setting personal deadlines for your tasks and goals. If you're blogging with a team, set your personal deadlines earlier than what has been mutually set by the team.
Clearly define a reward or benefit for each completed task – This way you will know for sure what you're working towards and can provide huge motivation by helping you to keep your eyes on the ultimate prize, regardless of setbacks.
Write your blog posts in advance – Look for inspiration for blogging from all aspects of life before the appointed time. As soon as you get post ideas, start drafting them up. This builds excitement and it will be easier for you to complete the perfect post when the time comes to publish it.
Just do it! – Its as simple as that, just do what you need to do NOW. Make that habit a part of you until procrastination is no more.
Discussion & Conclusion
As you steadily defeat the disease of procrastination, you will begin to realize massive improvements in how you execute tasks that are critical for success and that awesome feeling of fulfillment through effective blogging will pour into other areas of life and people will want to emulate you. Your efforts in becoming the next problogger becomes a reality.
Do you struggle with procrastination in blogging? What steps have you taken to overcome this overwhelming and silent disease? Please share your experiences with us in the comments below. We would love to hear from you.
Robyn-Dale Samuda is a Web Developer & is owner of Yuraki, a Website Development, IT Consultation & Online Marketing Firm in Jamaica. He has a passion for the web and helping clients achieve more online.