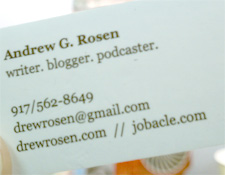 With several major networking opportunities in the near future, it's time for me to replenish my stock of business cards.
The last time around, I purchased some awesome cards from Moo. My favorite thing about these is that you can customize every card. So if you order 100 cards, you can have 100 images on each. I found this very useful in order to target different demographics. The cards are also a unique size, which makes them stick out in a crowd.
This morning I had a colleague hand me his new biz cards, and they are impressive. A heavy card stock created by an eco-friendly green printer, boldly showing off his name and skills.
As a blogger, you need business cards. Now the question is, how – if at all – should these differ from generic businesscards?
Essential items
URL: The whole idea of passing out a business card is to get people to contact you, and there might be no easier way to drive traffic to your blog then by giving people the link. If you have a link that is too long to fit on a business card, you should consider a new link – seriously! But if you insist on a long URL, use a link shortening service. This has two benefits. The obvious one, that the short URL will keep your card looking clean. The second, is that you can create a custom vanity URL that is only tied to your business card, that way, you can gauge success with how many people make the transition from the biz card to the Web.
Expected items
NAME: Names and faces are intertwined, so even if you are tempted to only include your URL, a advise printing your name as well.

PHONE: The more contact points you provide, the better chance you have of someone reaching out to you. Every person has their own favorite contact method, and the phone, short of face-to-face interactions, is still a great way to get business done.

EMAIL: If possible, avoid using a free email domain to add some credibility to your business. Yes, blogging is a business, even if you currently only have two readers (aka mom and dad).
Extra items
LOGO: If you have an image that depicts what your blog is about, your business card becomes more valuable. Keep in mind that many cards wind up in a stack, a drawers, and yes, more often than not, the garbage. When designing your card, set it up so it would make sense to that person a year from now, long after they forgot who you are. If a logo doesn't fit your fancy, consider a pithy tagline. (i.e. – Blogging pro and social media expert)
QR CODE: As iPhones and Android devices continue to permeate society, you are seeing QR codes pop up in more and more places. Consider making the back of your business card scannable. The code can lead people directly to your personal website, your blog, or maybe a special splash page designed just for folks who look to contact you via your business card.
Other optional but useful items to include can be your Twitter handle and LinkedIn URL. You do not want to flood people with too much information, but your card should be appealing enough to get people to make the leap from something physical to something virtual.
I'm off to design my new blogger business cards. I'll be sure to share once they are complete. If you have a card, leave a link to an image below – I'd love to be inspired by what you've done.
After working for FOX News and MTV Networks, Andrew G. Rosen founded Jobacle.com, a career advice and employment news blog. He is also the author of The Exit Guide: How to Leave a Job the Right Way.