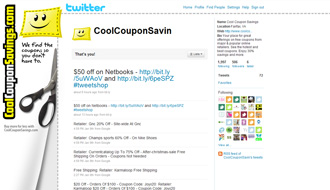 If you're using your Twitter profile as an extension of your online brand in order to build your business or career, then you need to read this post.
Your Twitter profile is an essential place to communicate your brand, not only through the content of your tweets, but also through the visual imagery that people see when they visit your profile page.  Don't let them see the default Twitter background.  Instead, use that background space to make a statement and communicate your brand and primary marketing message to your audience of visitors.
There are a number of sites that offer free, premium and custom Twitter backgrounds.  Depending on your goals for your Twitter profile to directly or indirectly build your online brand, you can determine your budget and choose the type of background that meets your needs.  However, investing in a unique, branded design is important if you're serious about using your Twitter profile as an extension of your business.
Keep in mind, your Twitter profile background is a static image.  You can include URLs and contact information in your Twitter background, but visitors won't be able to click on those links.  With that in mind, make sure URLs are spelled out completely in your Twitter background design.
Following are several sites that offer great Twitter background designs at various price points and levels of customization:
Social Identities offers Twitter and Facebook backgrounds.  Social Identities has created custom Twitter backgrounds for a wide variety of tweeters, including the one pictured above.
Twitbacks offers free Twitter backgrounds that you can personalize by uploading your own photo and information.
Twitrbackgrounds.com offers free and custom Twitter backgrounds.
Fortunately, custom Twitter backgrounds are very affordable, and there is an option for everyone.
Have you customized your Twitter profile yet?  Leave a comment and share your story.
Susan Gunelius is a published author and President & CEO of KeySplash Creative, Inc., a full-service marketing communications provider also offering branding and social media consulting services. Susan also speaks about marketing, branding and social media at events and conferences. Her marketing-related articles have appeared on Web sites such as Entrepreneur.com, Forbes.com, MSNBC.com, BusinessWeek.com, FoxBusiness.com, and more.