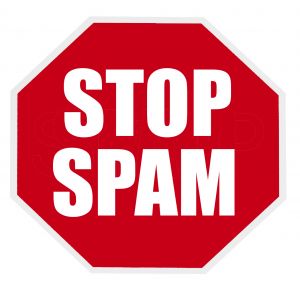 As a follow up to Jonathan Bailey's great post yesterday, Blogging Pitfalls: Becoming a Spammer, I wanted to talk about comment spam a bit more.  Bloggers are often inundated with comment spam, which can get so bad that they might even reconsider moderating comments.
Unfortunately, there are some forms of comment spam that have gotten out of control over the past year or so, and bloggers need to be aware of these spam tactics, try to identify them, and mark those comments as spam using their comment spam detection tool (for example, Akismet).  Identifying comments as spam helps your spam tool better identify them in the future, so hopefully, they won't get through to your moderation queue anymore.
But how do you know if a comment is spam if it's not the usual link-filled or gibberish spam comment that can be identified with a cursory glance?  That's the problem with these newer forms of comment spam — they often look like legitimate comments, until you take a closer look at them.
These days, there are comment factories that pay people a few cents to leave a comment with specific keywords linked back to a specific web page for the sole purpose of increasing incoming links to that page and therefore, increasing Google search rankings for that page in related keyword searches.  If you visit a freelancing website like oDesk.com, you'll find many of these "jobs".  They're quick and easy, and people snatch them up despite the low payment.
I refer to this type of comment spam as the "nice blog" or "great information" comment, because the comment will usually sound at least somewhat legitimate.  However, if you take a look at the URL entered into the comment form as well as the keyword phrase tied to that link, you're likely to find something suspicious.  If you follow the link entered into the comment form, you'll probably find even more evidence of a spam link.  In simplest terms, a link on a blog dedicated to discussing finance that leads to a website filled with ads, no original content, or with a URL like postnasaldriptreatment.com (I got that on one of my posts recently, and I assure you, the post had nothing to do with post nasal drip) is almost always spam.
There are also many comment spambots that find a blog that actually publishes a spam comment through phishing and then continually sends spam comments to that blog.  You don't want that to happen, which is why it's essential that you identify and mark spam comments as such to the best of your ability.  In time, you'll be better able to identify spam comments.  The first step is being aware of what to look for and "teaching" your comment spam detection tool how to deal with similar comments in the future.  Those tools aren't perfect, but every little bit of information you give them helps them get better.
Here are a few comment spam examples that fit the two scenarios listed above (paid comments for links and automated comments), which might help you to identify similar comments on your own blog.  These were taken directly from the comment moderation queue of one of my own blogs.  Suffice it to say, they have since been marked as spam if they were not detected as such by Akismet first.  Note that these comments were copied and pasted directly without correcting any grammatical errors.
Comment Spam Example #1: Submitted to a blog post written to help women in business
"i am always watching for any product launch on the internet as i am a gadget addict myself.,'"
— Comment linked to electriccementmixer.info
Comment Spam Example #2: Submitted to a blog post written about business thought leadership
"Keep posting stuff like this i really like it"
— Comment linked to pharmacytechnicianblog.com/pharmacy-technician-program with the keyword link text of Pharmacy Technician Program
Comment Spam Example #3: Submitted to a blog post written about the top 10 cities to capture Small Business Recovery Act dollars
"K12 education is always the best..-"
— Comment linked to titaniumearrings.org
As the three examples above demonstrate, if a blogger didn't take a closer look at them to see what post they were submitted to, what keyword link text was used in the comment form, and what URL was provided in the comment form, then that blogger may have published these comments opening the doors for similar spam in the future.  Don't let that happen to your blog.  Be diligent about fighting comment spam!
Image: stock.xchng
Susan Gunelius is a published author and President & CEO of KeySplash Creative, Inc., a full-service marketing communications provider also offering branding and social media consulting services. Susan also speaks about marketing, branding and social media at events and conferences. Her marketing-related articles have appeared on Web sites such as Entrepreneur.com, Forbes.com, MSNBC.com, BusinessWeek.com, FoxBusiness.com, and more.