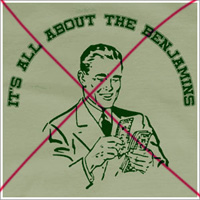 The economy might still be in the gutter, but if I were to gauge the global financial climate based on demand for my blogging services, I would have the say the future is bullish! (At least the future of blogging.) Never in my career have I received so many job offers. This has put me in the fortunate position of being more selective about the gigs I choose. And that's what I want to talk about today, the factors that go into making the decision whether or not to accept a blogging job.
The reasons are NOT in any particular order, though I'd love to here from you and how your decision-making process is ranked.
I realize some people would be happy to make a single dollar for their efforts, but I am here to remind you that your time is valuable and that you should think about any opportunity before saying 'yes.'
Reason #1 = The Money
We all work for money, right? It might not be the noblest of causes, but it is surely a primary motivator for many.
You must understand your blogging worth by estimating how long a blog post for a given vendor will take and how much you need – no, how much you deserve to earn.
Reason #2 = The Glory
I'll never forget the first time that I was published in print; all my parents cared about was seeing my name. I, on the other hand, was simply pleased to be growing a clip archive. Glory might not be the reason I choose to blog, but that doesn't negate its important for others. Whether you blog to satisfy your own ego or establish your name within a niche, some folks are searching for love.
Reason #3 = The Love of the Game
Crack is addictive. And blogging is too, though it's a whole lot cheaper (not that I'm familiar with the going rate of crack!). I know plenty of people who have engaged blogging because they love the medium. The freedom of expression offers the rush of exercising your democratic right to speak your mind. It's also therapeutic and habit forming, a "dangerous" combination.
Reason #4 = Passion for the Topic
If you live and breathe a specific topic, than blogging is for you. It gives obsessive folks a chance to tap into their OCD-self, while talking about something that is near and dear to them.
Reason #5 = The Total Package.
It's no secret that some employers are viewing blogging is the new resume. It increases your worth as an employee and is an ever-growing calling card to land new and exciting opportunities.
Ideally, when choosing to take a blogging job, the gig will afford me the opportunity to accomplish all of the above.
Blogging helps you grow as a person, and for that, I am proudly hooked.
What factors do you consider before taking a blogging job?
After working for FOX News and MTV Networks, Andrew G. Rosen founded Jobacle.com, a career advice and employment news blog. He is also the author of The Exit Guide: How to Leave a Job the Right Way.