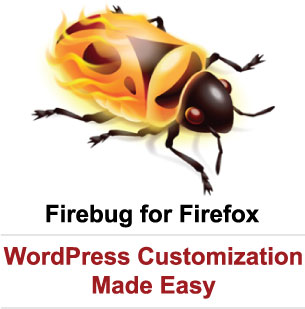 As bloggers, we aim to provide unique user experiences for all our visitors online through the use of the best blog designs and templates we can find. Although there are thousands of free and premium themes available, there comes a time when we want something specifically suited to our taste as well as our readers' without hiring a developer.
The ability to customize your own blog theme is an invaluable skill and will save you lots of time and money in the long-run; and through the use of a tool like the Firebug Firefox Add-on, making simple and advanced customizations are easier than ever. Firebug is a tool I use extensively as a developer to help me understand a site's layout and quickly implement design changes through CSS. So here are some tips and ideas to get you started on customizing your own WordPress themes.
Firebug's Features
Firebug provides the most common features for almost every customization you can think of. While you browse you can edit, debug and monitor your CSS code and tweak styles to see what they would look like before you implement. Firebug basically allows you to:
Tweak and position HTML elements with CSS and the Layout panels.
Find specific elements on a webpage with ease and precision.
Monitor the performance of each file to identify slow loaders
Visualize CSS Metrics
Plus a host of additional features
To download this neat tool and find more details regarding its powerful features, visit Getfirebug.com.
Identifying & Editing CSS Properties & Values
For WordPress blog theme users with Firebug installed, customization is a breeze regardless of who designed the template and how. Once Firebug is installed a small icon will be available in your web browser that gives you access to it's panel as shown below.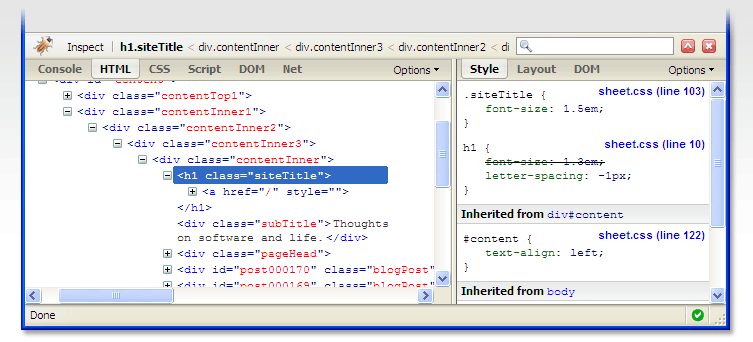 In the image above, the left panel shows the HTML that controls the site's layout and on the right we have its CSS. Usually WordPress themes' CSS are editable through the style.css file which is found in your theme's directory.
Common Challenge Overcome
Trying to figure out what each selector and property represents can be an impossible task especially if the developer of the theme does not provide comments and descriptions within the code. To overcome this, Firebug allows you to select page elements, using its element inspector, to find out its HTML code as well as the CSS selectors and properties that control the elements.
Once you have found the selectors you want to edit, simply access your style.css file through the WordPress dashboard Appearance >> Editor option and use your browser's search feature to find the code.
Learning to edit and tweak your CSS within the theme's stylesheet file is the first step to creating a unique theme for your blog even if its from a free design.
Additional Resource
To gain more insight into the power of CSS and learn all the possibilities that exist in design, check out the CSS section of the WordPress.org codex – They have many references to W3Schools, which is where I learned most of my CSS. W3Schools provides all the information you will need to learn CSS from the basics to advanced.
Conclusion
Not all of us as bloggers are interested in becoming developers but think of CSS as a tool to control the layout, colors and feel of your blog's theme as you would think of customizing a Microsoft Word document. It can be a very fulfilling feeling to know that you can make your blog stand out by simply implementing some very basic code. So CSS is definitely worth learning a bit.
Firebug is the simplest tool I have found so far for gaining control and understanding a WordPress blog theme design and is very useful for getting started as a new blogger and editing your theme.
Are there any other tools you have tried that offer comparable features and capabilities that  have helped you to master your blog's design? Please share them with us in the comments below, we would love to hear of your experiences.
Robyn-Dale Samuda is a Web Developer & is owner of Yuraki, a Website Development, IT Consultation & Online Marketing Firm in Jamaica. He has a passion for the web and helping clients achieve more online.