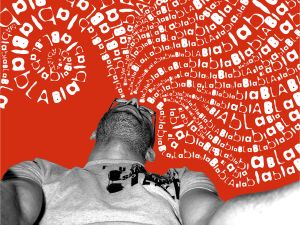 How long should my blog posts be?  I'm asked this question all the time, and I always give the same answer.  It's up to you.
I'm not trying to be vague with that answer, but your blog is your little place on the web and the honest answer to this question is that it's entirely up to you to decide what you want to publish on it.  However, if you want your blog to grow and have a chance at being well-trafficked and popular, then there are some general guidelines that you should keep in mind as you write your blog posts.
First, blog posts are typically written in a more conversational, casual tone than articles, newsletters, websites, and so on.  Just as you wouldn't want to drone on and on during a verbal conversation, you don't want to bore your readers with what many bloggers refer to as bloggorhea (i.e., the blogging version of verbal vomit).
Second, people who consume content online usually prefer to digest small snippets of content that they can read and respond to quickly.  Save the lengthy paragraphs and pages and pages of the written word for a white paper or research report.  Keep your blog posts short and sweet.
Third, too much scrolling is never a good thing online, and that applies to the length of your blog posts, too.
So how long should your blog posts be?
Again, it's up to you and depends on your goals for your blog.  If you want your blog to have a chance of attracting and retaining a sizable audience, then keep your blog posts succinct.  Lengthy posts can be broken into a series or edited to a blog-friendly word count.
While there is no magic number for blog post word counts, I'd recommend keeping your posts under 600 words.  In fact, if you can keep them under 500 words, that's even better!  It's important to write at least 250 words or so for search engine optimization purposes, so don't write posts that are excessively short.  However, if your post is over 800 words, shorten it or break it up into multiple posts.
For example, this post is just over 400 words, but I've made my point.  There is no need to bore you with more details.
Bottom-line, don't try to communicate too many ideas in a single blog post if doing so makes your post lengthy.  A focused blog (like a focused brand) is a stronger blog.  The same theory holds true for blog posts.  Focus is better than trying to be all things or do all things for all readers.
What do you think?  How many words are too many for a blog post?
Image: stock.xchng
Susan Gunelius is a published author and President & CEO of KeySplash Creative, Inc., a full-service marketing communications provider also offering branding and social media consulting services. Susan also speaks about marketing, branding and social media at events and conferences. Her marketing-related articles have appeared on Web sites such as Entrepreneur.com, Forbes.com, MSNBC.com, BusinessWeek.com, FoxBusiness.com, and more.