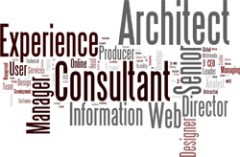 What you call yourself is a big part of personal branding. Pick a broad job title and people might be concerned you are not an expert; choose something too refined and the depth of your knowledge can be doubted.
Plumbers have it easy; the world understands what a plumber does. Maybe not every detail, but enough to get the gist.
These days most people know what a blogger is, but do they really understand what a blogger does? Not every writer can be a blogger and vice versa.
Many people think job titles are all B.S., and in the corporate world, I would not argue with you. But when you are a freelancer, and you have more control where the next pay day is coming from, it's important to label yourself correctly.
So let's gather 'round fellow bloggers and chat about what title makes the most sense. I'm talking about the several words that describe what you do on your business card. The title that you use on your email signatures, and so on.
How do you label yourself?
Blogger
Freelance Writer
Community Manager
Website Editor
Digital Media Pro
Written Word Technician
Editorial Producer
Add the other alternatives in the comments section below and let us know what you think is the best way to get across what you do to the masses.
After working for FOX News and MTV Networks, Andrew G. Rosen founded Jobacle.com, a career advice and employment news blog. He is also the author of The Exit Guide: How to Leave a Job the Right Way.