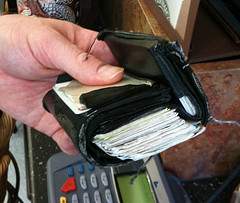 I was watching TV and saw one of those commercials for Capital One with the well-known tagline, "What's in your wallet?" and in my head, it turned into, "What's in your sidebar?"  Sometimes the strangest things can spark an idea for a blog post!
Of course, talking about what's in bloggers' sidebars isn't a new topic, but perhaps because I was watching TV, the next thing I thought of after seeing the Capital One commercial was that Seinfeld episode where George couldn't bear to part with anything in his wallet until it became so huge that he hurt his back carrying it around and sitting on it, and finally, it exploded.
So you're probably wondering, "How does this relate to blogging?"  Here you go…
There are two ways to look at your blog's sidebar:
1. The Capital One version
In Capital One's commercials, the company tries to differentiate its brand from its competitors by creating a perception that it's product is stronger and better than other credit cards.  If you have a Capital One credit card in your wallet, you don't need anything else.  Now, I won't discuss the merits (or lack thereof) of Capital One in this post, but the point about blogging is this — you can use your blog's sidebar to differentiate your blog from the competition.  Everyone puts links to their post categories, some ads, and subscriber buttons in their sidebars.  What can you add to your sidebar that truly adds value to the user experience on your blog, and how can you use your sidebar to make your blog stand out from the crowd?  Surely, you try to do this with your content, but you can do it with your sidebar, too.  Don't be afraid to get creative!
2. The George Costanza version
George Costanza's wallet is so full he can't find anything in it.  Is your sidebar so cluttered that visitors can't find the useful information between the useless information?  Is it flooding with ads, bursting at the seems with links, and twice as long as your actual content?  Just as George's wallet hurt his back, your sidebar can hurt your blog.  Keep it streamlined.  Get rid of the old stuff you don't need anymore, and replace it with things that users want to have at their fingertips — the things they can't get through the day without.  This means you'll need to change your sidebar as your readers' needs and interests change.  Be prepared to experiment and resist the urge to be a pack rat.
So which one are you?  Are you Capital One or George Costanza?  There is no better time to change than the present!
Image: Flickr
Susan Gunelius is a published author and President & CEO of KeySplash Creative, Inc., a full-service marketing communications provider also offering branding and social media consulting services. Susan also speaks about marketing, branding and social media at events and conferences. Her marketing-related articles have appeared on Web sites such as Entrepreneur.com, Forbes.com, MSNBC.com, BusinessWeek.com, FoxBusiness.com, and more.