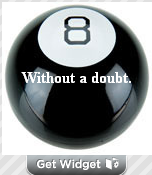 Who doesn't love the classic Magic 8-Ball toy?  Did you know you can add one to your blog?
It's true!  There are tons of free widgets that you can add to your blog to make it fun, interactive, and even more useful.  Listed below are several sites where you can find free widgets that you can install on your blog right now.
Some widgets will display on your blog with ad content, but some widget directory sites offer an option to pay for a pro account and remove the ads from the widgets.
Keep in mind, not all widgets are created equal.  Read the reviews, check the star-ratings, and be prepared to delete the widget if you don't like it or it doesn't function properly once you install it on your blog.
Most importantly, make sure the widgets you choose to use on your blog match your blog's topic, tone and your audience's expectations.  For example, if you write a blog about finance and investing, the Magic 8-Ball widget (like the one shown in the image at the beginning of this post) might not be appropriate, unless your audience knows you for having a sarcastic tone or sense of humor.
Check out these sites and browse around the widgets available.  From countdown clocks to Etch-a-Sketches, there is a widget for everyone!
Widgetbox offers a huge selection of widgets and several different types of accounts with varying price tags and features.  The basic account is free, and a free 7-day trial offer is available for the pro account.  You can follow the link to see current Widgetbox fees.
SpringWidgets is owned by Fox Interactive Media and offers a directory that includes tens of thousands of free widgets that you can add to your blog by simply copying and pasting specific share code.
Widgipedia is owned by Vendio Services, Inc. and aims to be the ultimate widgets resource.  Widgipedia is free and you don't need an account unless you plan to create and upload new widgets to the directory.
What do you think?  Are you going to spice up your blog with a widget?  Can you resist the mysterious allure of the Magic 8-Ball?
Susan Gunelius is a published author and President & CEO of KeySplash Creative, Inc., a full-service marketing communications provider also offering branding and social media consulting services. Susan also speaks about marketing, branding and social media at events and conferences. Her marketing-related articles have appeared on Web sites such as Entrepreneur.com, Forbes.com, MSNBC.com, BusinessWeek.com, FoxBusiness.com, and more.